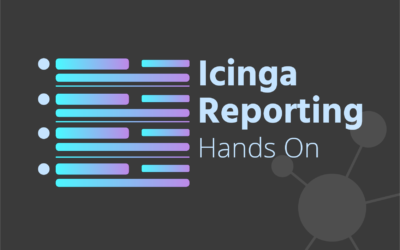 After our initial release of Icinga Reporting for early adopters we continued our development and are happy to release v0.9.1 today. The release includes bug fixes and some minor enhancements for the usability. I want to take this opportunity to write a post aimed at...
Go ahead and try Icinga
We have a demo system waiting for you to see Icinga in action. A demo is worth a thousand words.
We're happy to announce that we released an early version of Icinga Reporting today! With this release we create the foundation for an overall reporting functionality for Icinga by introducing a new way to work with collected data. At the same time we are also...
This release provides fixes for the InfluxDB and Elasticsearch metric writers. If you're using TLS connections, the latter were not closed correctly. In addition to these fixes, we've also backported fixes for delayed and one-time notifications. Special thanks to...
Gut Ding will Weile haben. Or, Rome wasn't built in a day. Though, I like the German version more because it's not that quite a stretch. Well, what this is all about you ask? It's been the first quarter of 2017 when the first version of the Icinga Business...
Dive into Icinga
Everyday we do our best to make your experience with Icinga as good as possible.
Learn about Icinga and its capabilities to inspect your entire infrastructure.
This release fixes a regression introduced with namespaces in 2.10 where advanced permission filters could result in a crash with many concurrent requests. It also fixes the problem that permission filters are sometimes not applied correctly. Thanks VSHN for...
The Icinga Camps we are co-organizing with our partners are truly fascinating. We manage to offer a platform for experienced monitoring experts and beginners at the same time. An Icinga Camp is an event where you can listen to amazing stories from Icinga users and...
Last week I told Blerim that Icinga came to life on 6.5.2009 ... really, 10 years already? A small group of Nagios community members stood up and wanted to create more than a monitoring core with an enhanced web interface. APIs, integrations, backends, scaling,...
We are happy to announce a new bugfix release for Icinga Web 2. Official packages are available on packages.icinga.com. Community repositories might need a while to catch up. You can find issues related to this release on our Roadmap. PHP 7.3 Now supported....
I'm not going to list all benefits of automating your monitoring system. If you're here and reading this, you are most likely very aware that maintaining a large infrastructure is a big challenge. Automating the monitoring process for a huge amount of servers, virtual...