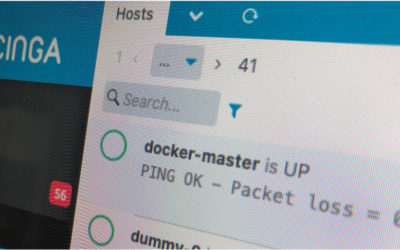 When building Icinga DB Web we completely rewrote the basic Icinga Web UI. The "monitoring module", which it was called before. While this existed for some time and the and the underlying concepts were already used in the Icinga Director, we took the chance and...
Go ahead and try Icinga
We have a demo system waiting for you to see Icinga in action. A demo is worth a thousand words.
We're happy to announce a new version of icingabeat, v7.5.2. With this release we ensure the compatibility with Elasticsearch 7.x and Logstash 7.x. Icingabeat is an Elastic Beat that fetches data from the Icinga 2 API and sends it either directly to Elasticsearch or...
It is finally ready for launch - the first final release v1.0 of Icinga for Windows. The past months were quite challenging: Analyzing, troubleshooting and fixing issues reported by our awesome community and customers: Your support made it possible that we can...
Icinga for Windows is our framework and plugin collection to monitor Windows hosts natively with the Icinga Agent. We published our first release candidate in November, today we are delighted to announce the availability of Release Candidate 2 of Icinga for Windows....
Dive into Icinga
Everyday we do our best to make your experience with Icinga as good as possible.
Learn about Icinga and its capabilities to inspect your entire infrastructure.
The Cube module is our extension for Icinga Web that enables you to create enhanced filtered views on your hosts and services. By filtering in multiple levels you can create a view to separate by environment, location, operating systems or whatever information you...
Hello Everyone! As Feu had mentioned in their post earlier this week, we are restructuring how we work and how we communicate. From maintaining the project, to developing, to doing our events and working with you - the community. We see that we have been...
Almost a week ago we wanted to host our first virtual Icinga meetup. In fact, we were so excited about this that we may have rushed into it a little. The result was that the software we used was not able to handle the sheer amount of people joining. Additionally the...
Personal Can you describe your role in the Icinga project? In Icinga I am a developer and the maintainer of Icinga Web 2. I keep an eye out for bugs, needed features, documentation and the tasks in the web and its modules. Our team consists of Eric, Ravi, Florian and...
It's friday the 27th folks! This means, the meetup mentioned in this post is going to happen - in an hour! When: March 27, 5PM – 7PM (CET) Where: Jitsi Meeting A few notes before we get started: Before the meetup - Make sure your mic and headphones are all set...