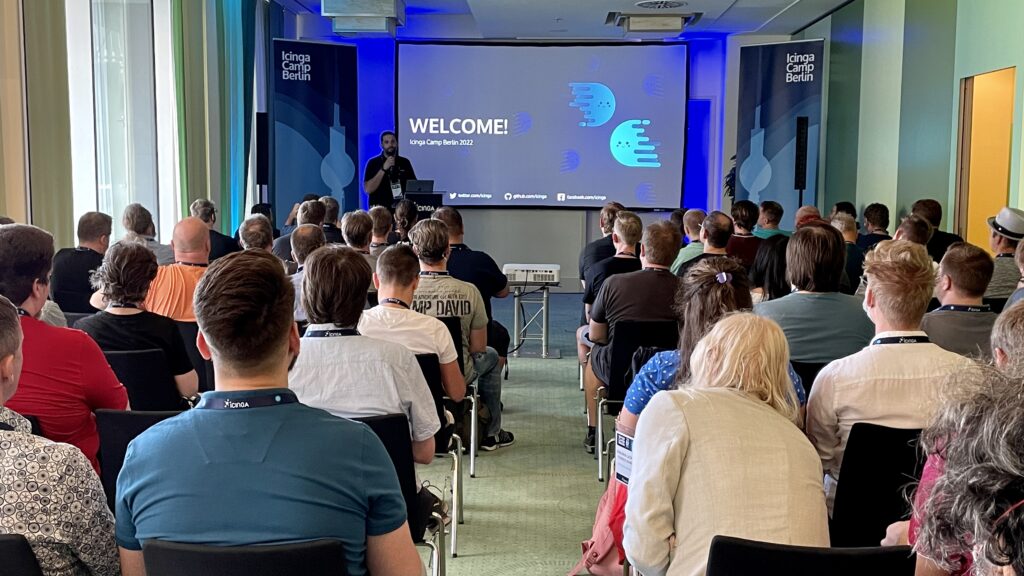 Our first Icinga Camp after 2019 now took place almost 3 years later and was an amazing event that took us right back in time.
We tried to create an athmosphere where we could share our current state of things, introduce new features and have people who work with Icinga share their perspectives and achievements as well. For all of you that could not make it to the event, we now have all of our talks online on YouTube – so click the name of any talk that interests you to jump right in!
We started the event at 09:00 am local time in Berlin with some fresh coffee and some room to meet the other visitors and team Icinga. It was a great opportunity to meet old friends and welcome new faces to the community. After a warm welcome from our CEO Bernd, we jumped right into our first talk:
In the past months there have been increased efforts to collaborate with Icinga Users to create costomer stories – which explain how people use Icinga, what their unique monitoring challenges were and how Icinga helped to solve them. If you want to learn more, in addition to the overview Blerim gave in his talk, check out the full stories. 
The next talk was this years update on Icinga DB – and this time Eric got to talk about the released version! Eric explained how it works, what it does for you and your environment and what kind of challenges we faced during development. In addition Icinga DB opens up new possibilities for you and your monitoring that were not possible with the IDO – so give it a try and check out our new Icinga DB!
After the opening talks there was a lot of exitement to be shared in our first coffee break. Chatting about experiences with Icinga DB and sharing ideas on what to tackle next  was a nice break before heading back into the room. The stage was then given up to the Icinga community:
The author of the talk was sadly not able to present for us, but luckily his colleague Dave was able to stand in on short notice. In this talk we heard about Sol1's expierences with monitoring through their years of working with Icinga at a larger scale. They shared the benefits and possible dangers to be aware of when using an external source of truth to configure your monitoring and which lessons they learnt on the way.
The plugins from Linuxfabrik have already made an appearance in our blog earlier this year. In his talk Markus goes a bit more into detail about the plugin collections background and shows us how they work under the hood.
The lunch break offered another chance to meet people over the delicious buffet and to chat about all things Icinga. After an hour and a half of socialising we headed back to our seats to hear about some interesting tools:
The second half of the day was kicked off by Thomas showinig us, what he released a few hours prior: A new Icinga Module that integrates with the Icinga Director, offering a somewhat git-like version control for configuration. With different Director Branches you can now have multiple states of config that can be drafted, switched out and reviewed at the same time. Read the full blogpost on Releasing Icinga Director Branches.
Up next was the second appearance that day by Dave, this time with his original talk about Meerkat. Dashboarding is an important part of gaining an overview over your systems and Meerkat can help you with that. The open source tool can aid you a lot in visualising your data with a lot of nifty features that were shown during the presentation.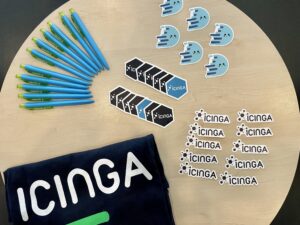 Coffee break number two now signaled the last talks coming up. We grabbed some snacks and merch then headed back into the conference room.
Slipping into the perspective of someone working at a service desk we learnt about how to make life easier for the people using Icinga with Guacamole (not the avocado-based one). Ceclila managed to show us that the integration of remote desktop connection tools can help with your monitoring challenge and she showed us how to make it work.
The last talk of the day was quite a bit less technical than the previous ones. In my talk I shared Icingas experiences with running surveys, how to ask good questions and what to think about when gathering data.
With that the Icinga Camp was already at the end of its official schedule. While some of us headed back home, other stuck around for another nice meal and some company
All in all, I am very happy to have been part of this years Icinga Camp in Berlin and I am looking forward to meeting you all again at the next event. Thank you to everyone who took part as a speaker, organiser and of course also as an attendee! Because without you, this would not have been possible.
Thank you so much and see you next time!