DevRel is short for Developer Relations. Developer Relations is exactly what it means, a marketing policy that prioritizes relationships with developers. In general society, there is a word known as PR (Public Relations); you could say DevRel is the developer version of this. Its definition is very simple.
DevRel is the marketing technique used to ensure that one's company, products, and developers establish a good, continuous relationship with external developers and community.
People who do DevRel often have a technical background, having worked in the industry before switching to their role, but that is not a requirement. I have sometimes heard them dubbed "the social developers".
Despite being employed by an organisation, they should have the best interest of developers and community in mind first, and establish good communication between the parties.
What does "a DevRel" actually do?
Something to note, DevRel is something you do and not something you are! But what do people who do DevRel actually do?
There are different job titles that encompass the different roles someone in Developer Relations can hold:
Developer Advocate
Community Manager
Developer Educator
Depending on team size there can be specialisations of each of those roles – leaning more into one responsibility or the other.

I am a one-person-team taking up the role of Developer Advocate, meaning I try my best to touch on all aspects of that role. Those would be:
Marketing: Putting to use my technincal knowledge of Icinga to use in cooperation with our marketing department, running different social media campaigns, and overseeing our blogposts here.
Enablement: One of my goals is to make sure that all people who want to contribute to Icinga have the means to do so. That means pestering our Developers to write documentation, write documentation myself, sorting our tutorials, and genereally create content to make contributing as approachable as possible.
Advocacy: I understand advocacy as being "the bridge of communication" between our developers, the community, and our management. I try to mediate where I see potential for conflict, answering questions and making people feel welcome in our community.
Community: Engaging with our community in the form of visiting events, giving talks, hosting events, and being the face of Icinga you can approach.
Generally, those blend together in my day to day work – there is always something to do and to improve.
If you want to know more about Developer Relations, I would like to point you to the DevRel website created and maintained by hoopy!
DevRelCon London 2023
The DevRelCon is a conference format which travels around the world bringing together people who do, and want to learn about, DevRel. It is organised by the very same organisation as the aforementioned website: hoopy.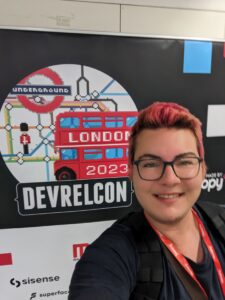 Last week I vistited the DevRelCon in London. At the event, I was happy to meet fellow DevRel people and community management professionals. I followed talks centered around DevRel during a downturn, developer education, building, managing, and measuring community programs, and core skills for DevRel.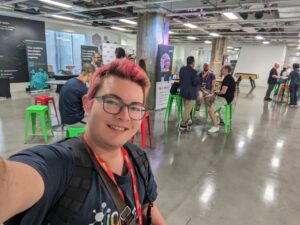 Most of my time was spent in the unconference, which is basically a hallway track taking place in a room with plush sofas, where all attendees could suggest topics for discussion and get together to exchange what they had to say about it. The organisers put up a whiteboard with a timetable on it, and put out a stack of sticky notes to write our topics down and put them on the board.
We discussed how to make community events more enjoyable, accessibility in our products, improving our documentatioin, and how to make contributing more engaging and fun for our communities.
Help me help you!
Doing DevRel at Icinga is my personal dream job. I get to travel the world, meet some lovely people, further the cause of Open Source, and most importantly help out you lovely people out there achieve what you want with Icinga!
In order to do that, I need your help too – if you have concerns, feedback, wishes, or something else on your mind – please feel free to contact us and reach out to me!