Our journey of Icinga integrations continues – we're announcing the general availability of the Icinga Module for Jira v1.0 today! Jira is a ticketing system created by Atlassian and it's one of the most popular ones of its kind. Jira is used by a very diverse audience: Developers, Managers, SREs, Systems Engineers and everyone else who needs to keep track of issues and projects. The Icinga Module for Jira extends Icinga with multiple functionalities to create seamless workflows between Icinga and Jira.
Create Issues on Problems
When Icinga detects a problem in your infrastructure, be it a host that is down or a service that is critical, this module helps you by creating an issue for each problem automatically in Jira. This system comes in handy when multiple people work on problems or need to keep track of those.
The Icinga Module for Jira also keeps track of reoccurring problems, so you won't create multiple issues for the same problem. Additionally, acknowledgements will be set automatically. If you don't want to create issues automatically, you may create them manually through the Icinga Web interface.
To keep track of all existing issues created by this module, there's a dedicated history overview. Further, a direct link to Jira is embedded at the host and service detail view leading you directly to related Jira issues.
Integrating with Jira Workflows
For those of you who are using customised workflows in Jira, this module brings a functionally to map those with the module. The highly configurable templates allow you to set custom values based on your existing workflow. You may set your team automatically or tag different problems with different tags.
Integrating with Director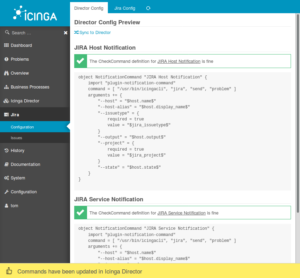 The Icinga Module for Jira works based on a notification command that is included in 'icingacli' once the module is installed.
Users of the Director can simply just synchronise the related configuration and deploy it through Director to Icinga. This provides a hassle-free installation path where you don't have to take care about creating custom Icinga configurations.
Get started
The documentation with a introduction is available on our website: Get started with Icinga Module for JIRA