Icinga Camp Tel Aviv – 2018
17th December 2018
You will get the latest news from the Icinga team and speakers from our stellar community.
See our amazing lineup
Thanks to everyone making Icinga Camp possible and learn more about our sponsoring possibilities.
Learn more
about our sponsorship opportunities.
Our Camp will take place in Ramat Gan (greater Tel Aviv area) in the Shavit Center.
You can find more information about our location over
here
.
Our amazing lineup for Icinga Camp Tel Aviv 2018
What's evolving in Icinga
A introduction into the day and the current state of the Icinga project.
Eric Lippmann
Monitoria – A Monitoring Democracy
Monitoring is important – but as your company grows it becomes harder to keep an eye on all the different moving parts. As the times roll by and the company grows new technologies are being added to the stack and it's essential to make sure those can be monitored reliably out there in the wild. We want to share how we transformed monitoring from a one man job to something every developer and Product Manager cares about and actively participates in. This talk will introduce you to open source tools that can enable such a solution. Walking you through a cultural transformation that makes monitoring accessible to everyone.
About Yaron
Been chopping away at various types of software for 15 years now. After spending ~10 years as a DBA I shifted myself into a DevOps oriented approach and started spending my energy on mastering the toolchain. Currently an essential part of Soluto's DevOps team and leading the effort of shifting our production workload to kubernetes, along with many other daily challenges. Yaron Idan
Considerations for multiple Icinga 2 Master-Setups
Running standalone setups with Icinga 2 is easy. But especially if you have more than one master node in your environment, things are getting more and more complicated. The presentation gives you hints and practical examples how to deal with them.
About Markus
Markus works as Senior Consultant and Trainer @NETWAYS, an open source service company in Germany. Before hiring at NETWAYS he was self-employed and has been working as a system administrator. Since his start to working life, he's dedicated to open source software. Markus Waldmüller
Migrating from Vanilla to Director based solution
A customer wants to migrate from a plain vanilla Icinga (files managed) to Director based , sounds good ? Hear about the pit falls that await: from managing the customer expectations, explaining the benefits and limitations of the migrations ,to learning when to say No. A story that proves that old saying "if it Ain't broken – don't fix it"
About Assaf
Assaf has over 20 years of experience in working with open source products, providing support, design and implementation of businesses IT infrastructure ranging from SOHO to Large Enterprise solutions. He specialises in complex deployments that require state-of-the-art monitoring capabilities. Assaf Flatto
Developing IcingaDB
The Icinga Team and the projects contributors around the world are  always working on improving and fixing Icinga 2, Icingaweb and their  plugins and addons. But sometimes something new is needed, and in the  case of the IDO we decided we want a fresh start and try out a few new  and unfamiliar technologies: The Icinga DB, a Redis-SQL connector daemon  built specifically for Icingaweb's needs.
For this talk I will show you what we have been working on these past months and our decision-making process on our way
there. From the choice of programming language over database back-end comparisons to past failed attempts. Join me on a
retrospective of the Teams biggest project this year. Jean Flach
Watch your Dependencies with Snyk and Icinga
We all do heavy usage of 3rd party dependencies on a daily basis. It makes our work simpler, but also can introduce new vulnerabilities. After all, this 3rd party is just someone else code – and this code can contain security issues. What can we do? How can we use 3rd party dependencies responsibly? join me for this session to find out how by combining the power of Icinga and Snyk.
About Omar
I'm coding since 4th grade, when my dad taught me BASIC and haven't looked back since. I'm an AppSec/DevSecOps enthusiast, and always curious about integrating more hacking tools into the CI/CD pipeline. I'm always looking for new interesting ways to increase security awareness over the entire R&D – developers, product and UX. I highly believe in OWASP and a proud member. I am an open source addict, using OSS heavily and keep contributing back.
About Assaf
Assaf Hefetz is the co-founder & CTO of Snyk.io, building web security tools for developers. Assaf was previously Director of Innovation at Supercom, Where he led the development and innovation of the company's security products, and a senior developer at Skycure, where he researched and helped fix Mobile Security threats. Assaf is a hardcore developer and security expert, and is passionate about finding and protecting against software vulnerabilities. Omer Levi Hevroni & Assaf Hefetz
How Integrations Improve your Monitoring Experience
Many companies try to build the one and only, all-in-one monitoring solution. It should fit all your needs and replace all your existing tools. Icinga is going a different way, and there's a good reason for it. In this talk I will explain how integrating with existing tools turned out to be one of our best decisions ever made and how it helped users worldwide to build their very own but standardised monitoring environment based on Icinga. Blerim Sheqa
Features hidden in plain sight
Icinga 2, Icinga Web 2 and its modules are a powerful monitoring stack with many features. This talk tries to cover some features you will probably overlook while reading the documentation, workflows to simplify configuration and some eye candy you want to add.
About Dirk
Dirk Goetz is working as Senior Consultant and Trainer for NETWAYS. As part of his daily work he writes concepts, implements, reviews and teaches Icinga 2 in many different environments. In the Icinga Project he is part of the Packaging team helping with RPM and SELinux but also contributes in other parts. Dirk Götz
Register for Icinga Camp
By registering for Icinga Camp you accept our welcoming and harrassment-free experience for everyone. Our Conference Code of Conduct will apply to all attendees (including speakers, guests, sponsors, and organizers).

Our Sponsors in 2018
Icinga Camps are events dedicated to Icinga – monitoring best practices, add-ons and tools, and its continued development. We greatly value sponsors for this open event. Learn more about our sponsorship opportunities.
Shavit Center
In the Shavit Center, you can hold small, multi-participant meetings. You can find a business consulting room, personal counseling, a meeting on the therapist's couch, a mediation room, personal work meetings and a conference room for a large number of participants. There is a meeting room for a group of up to 8 people plus guest sofas, and there is a training room that can accommodate up to 20 participants. There is also a conference hall for up to 50 people.
Find out more about the Shavit Center on their website.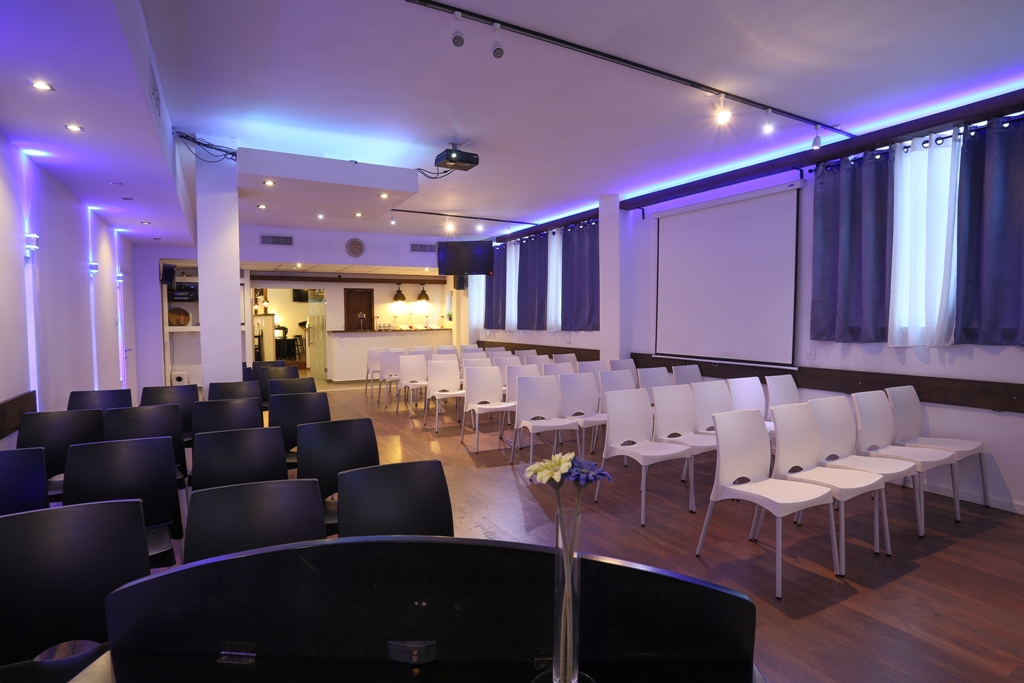 Address
Shavit Center
Bezalel 8
Ramat Gan
Israel
Get in touch
If you have any questions, don't hesitate to get in touch with us using our contact form.