Today we are happy to announce the release of Icinga for Windows v1.6.0, which we already demonstrated on YouTube last week. This is one of our largest releases so far, as we improve the entire usability, flexibility, and security of Icinga for Windows.
The following packages have been released with a latest version:
What's New?
Installation with IMC (Icinga Management Console)
With Icinga for Windows v1.6.0 we moved the Icinga Management Console from experimental to stable and moved the entire base installation from Icinga for Windows from the "old" Start-IcingaAgentInstallationWizard Cmdlet entirely to the IMC. This allows much easier flexibility and reduces the current complexity from the wizard, by allowing an easier accessibility for new users and a better overall overview.
In addition, the entire automation is way easier as the IMC allows to export installation commands and installation files, which can be used on other systems for automated and unattended installation.
Manage Components with Repositories
In the past, users had manually specified the location for each single component being installed by Icinga for Windows. This not only was too much administrative effort, but also required to manually copy each single component file and make it available in your environment.
Starting with Icinga for Windows 1.6.0, we now provide a built-in Repository Management for all components and the entire environment. You can simply add official Icinga Repositories for stable and snapshot packages directly from packages.icinga.com or by creating own repositories. You can also synchronize already existing repositories to your environment to mirror them for internal use on systems which are not able to access the internet. You can keep this repository updated, by simply re-syncing and updating it on-demand.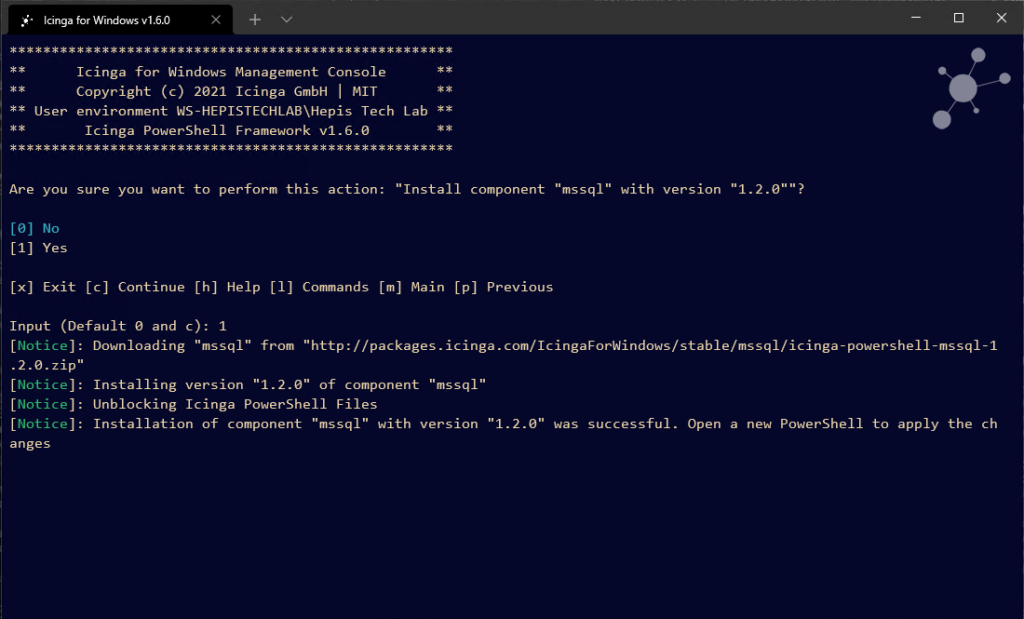 You can have a look for examples and more detailed descriptions on the Icinga Repository Management documentation.
More Security with JEA
Previously permissions for each single plugin had to be granted in Windows for each area, regardless of being WMI queries, access to services, tasks or tools like Hyper-V and Cluster. To ensure security configurations are easier to manage and to increase security in general, we now fully support JEA (Just-Enough-Administration) profiles. Icinga for Windows can build a JEA profile based on the installed components, by analyzing them and configuring a permission file with all required Functions and Cmdlets to run mandatory commands only.
All such commands will then be executed inside the WinRM service in system context with higher privileges. In general, JEA works like sudoers on Linux, allowing to run certain commands with all rights to fetch information. Once you install or update components, you simply have to update the JEA profile to support possible required additional commands.
To increase the flexibility, Icinga for Windows now allows to create a managed user called "icinga", which can be used together with JEA profiles for monitoring. This user only inherits the permission to run as service. Local login, RDP login or anything else is not possible with this user and blocked within the Windows security catalog. This local user is exclusively used by the Icinga Agent and the Icinga PowerShell Service. In case a user icinga is already present on the system, Icinga for Windows will ignore it and not modify the user itself.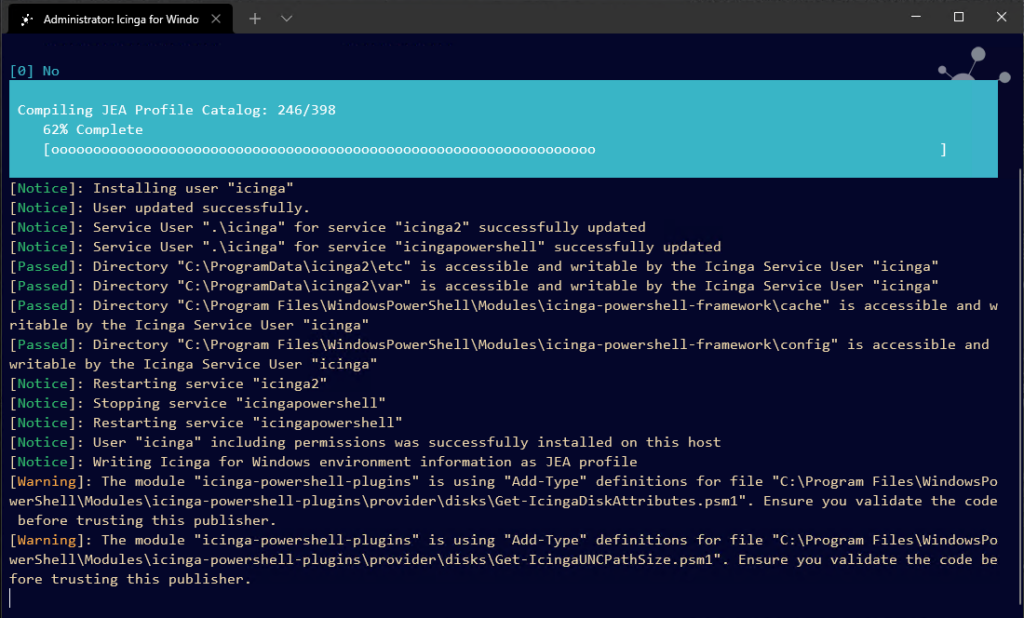 You can have a look for examples and more detailed descriptions on the JEA documentation.
Improve Performance with Check-Forwarder
With Icinga for Windows v1.5.0 we released the Api-Check forwarder, which will move the check execution from the local PowerShell to a REST-Daemon provided by Icinga for Windows and the components REST-Api and Api-Checks. This mitigated the load by continues check on the system, as they are executed inside the background daemon which have most libraries loaded already. Once a plugin is executed, it will remain in memory and not require any re-load of the data.
You can have a look on how to setup this feature including required components at the Check-Forwarded API documentation.
Bugfixes and other improvements
Following the two big topics mentioned before, we also fixed plenty of bugs and improved the entire experience with Icinga for Windows in general. We appreciate all your feedback and opened issues and encourage you to keep us updated, in case anything is not working as intended.
The bugfixes include several minor issues on first installations and some bugs on older Windows systems, as well as issues by using the Icinga Director Self-Service API and general instability and error handling. You can view the full list in the changelog.
What's Next?
We will of course not stop here and will move forward with new features and improvements. This includes performance updates, which we are already working on internally to resolve this issue entirely. In addition, we are working on new plugins and the improvement of existing plugins based on all provided feature requests.
The next version Icinga for Windows v1.7.0 is already scheduled for 9th November 2021 and will be presented on this year's OSMC (Open Source Monitoring Conference). We would be happy if you would join us there!
Thank you very much for all your contribution and feedback so far! Please keep getting in touch with us regardless of issues or feature requests, allowing us to improve Icinga for Windows even more in the future.
Have a great time!