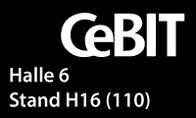 Starting early on Sunday morning meeting in the NETWAYS office in Nuremberg, the first shift moved to Hannover reaching out for CeBit 2015 preparations. The Open Source Park is located in hall 6, and we were excited to have our booth directly attached to the Open Source Forum where all the cool presentations took place as well.
Monday morning should've started quiet and calm, but it wasn't – users and visitors stopping by and looking at the fancy Icinga Web 2 demo. Listening to our stories on how Icinga 2's apply-services-based-on-patterns works and all the benefits with and around it. The first day already was overwhelming and so did it go on the second day on Tuesday. So much #monitoringlove at CeBit is really incredible, and we certainly enjoyed showing everything in detail 🙂
We also had the pleasure giving two radio interviews – make sure to join the Open Source Magazin CeBit special on Monday, 23.3.2015 and the Midnight Gaming CeBit Podcast (German only).
Bernd joined later in the evening, having prepared his talk in the Open Source Forum on Wednesday, Enterprise Open Source Monitoring with Icinga 2. Never seen so many people attending a talk in the Open Source Forum and the presentation really was a blast. After the talk the Icinga booth was a bit crowded 😉 The second shift with Eric, Johannes and co-workers from NETWAYS already joined us and so Marius and myself where leaving Wednesday, tired but happy 🙂
While our feedback was overwhelming, it did not stop yet. People coming over and saying "Thanks for Icinga, we love it" is the best feedback there is! And rumors do tell the party on Wednesday evening was great too, and Thursday was a bit heavy. But still, following the Icinga social media streams the appreciation is massive and really keeps us going forward!
See you next year, hopefully 🙂
Follow Icinga on Twitter, Facebook & Google+Â – some impressions below.