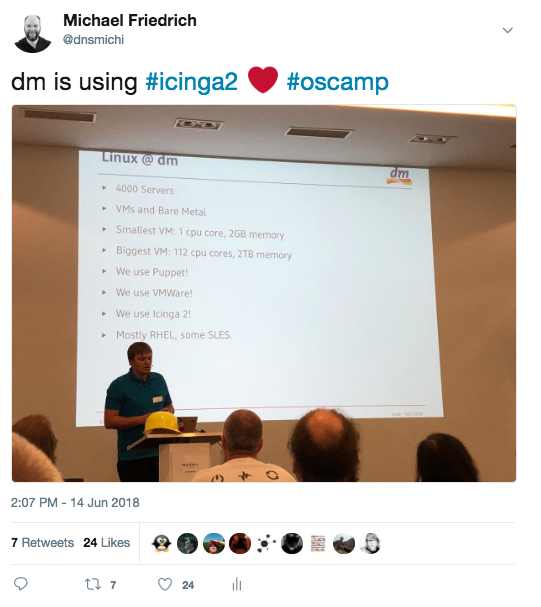 We are planing with more events and camps in 2018/2019. Please let us know if you are interested in joining us in Washington, D.C., Tel Aviv, Berlin or Stockholm.
I've attended the Open Source Camp right after OSDC this year. Although its focus was on Graylog and Foreman, both products integrate well with Icinga. We've learned about the upcoming Graylog v3.0 release this summer, and watched the latest developments of the monitoring plugin for Foreman which allows to manage objects and downtimes in Icinga. It is also official – welcome dm-drogerie markt as Icinga user :)
Product Updates
This month we've been working hard on resolving the remaining issues for Icinga 2.9. The release will happen soon, now we gladly receive your test feedback from the snapshot packages. Bullet points are Elasticsearch 6 support, minimum version in the "icinga" check, fixes for the Windows reload, memory problems, scheduled downtimes and notification order.
Meanwhile, developers are also taking care of Icinga Web 2.6 coming this summer. You can expect new features like audit logging and new group grids, better monitoring health indicators and PHP 7.2 support. There's also work underway for the business process module, sponsored by a customer.