IDG's InfoWorld announced the 2015 Best of Open Source Software Awards – and Icinga 2 (and Icinga Web 2) wins our first Bossie in the category "Bossie Awards 2015: The best open source networking and security software"! 🙂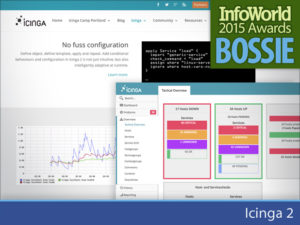 Read their nice review below:
Icinga began life as a fork of system monitoring application Nagios. Icinga 2 was completely rewritten to give users a modern interface, support for multiple databases, and an API to integrate numerous extensions. With out-of-the-box load balancing, notifications, and configuration, Icinga 2 shortens the time to installation for complex environments. Icinga 2 supports Graphite natively, giving administrators real-time performance graphing without any fuss. But what puts Icinga back on the radar this year is its release of Icinga Web 2, a graphical front end with drag-and-drop customizable dashboards and streamlined monitoring tools.

Administrators can view, filter, and prioritize problems, while keeping track of which actions have already been taken. A new matrix view lets administrators view hosts and services on one page. You can view events over a particular time period or filter incidents to understand which ones need immediate attention. Icinga Web 2 may boast a new interface and zippier performance, but all the usual commands from Icinga Classic and Icinga Web are still available. That means there is no downtime trying to learn a new version of the tool.

— Fahmida Rashid
Have your own awesome story on Icinga 2? Share them with us.