The year is coming to an end, and it really has blown by in no time.
I was introduced as our Development Advocate in March. Our first (slightly chaotic) Virtual Meetup in the same month. Blerim shared updates on our plans with Icinga in May, and talked about last years user survey in July. Feedback week took place in November and we released our new brand with our Icinga Insights in the last stretches of this year!
It been a few weeks now since Feedback Week ended and I presented some info about it at the Icinga Insights.
The Participation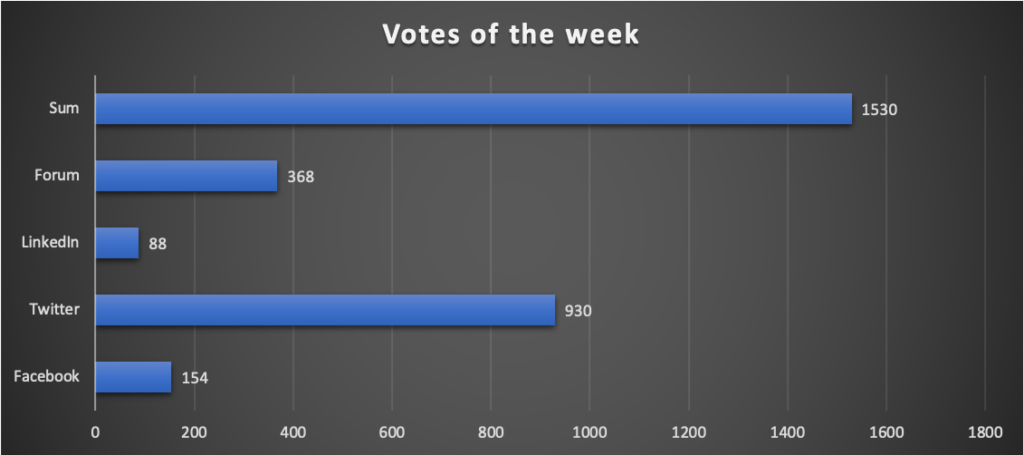 We have received a lot of votes over the course of the week – 1530 to be precise! Twitter leads with 930 votes total, followed by the community forum with 368, Facebook with 154 and LinkedIn with 88 votes. We were very happy to have had so much interaction with you all!
The Heroes
I want to quickly pick up again on our Community Heroes and who they are again:
log1c is our Forum Champion – an active member of the community. Helping to keep the community forum a friendly, welcoming and helpful place for everyone.
Micheal Insel is our Code Contributor #1: He's been helping out in different Icinga repositories for years now and is well known among the development team for his great contributions!
Martin Säftdal is our Knowledge Sharer – a content creator who focuses on writing articles and how-tos on the topic of Icinga. He's been voted by the community, who appreciate all of the lessons learnt from him.
Tobias von der Krone is our Social Communicator. His name has been popping up in all of our social media channels a lot of the past year and we want to say thank you for being such an active advocate!
Carsten Köbke is our Integrator. He has been voted by the community for providing us with amazing additions to the Icingaverse. His best known contributions would be the Grafana Module and his wondrous Unicorn Theme.
Stefan Schnauder or stevie-sy, as he is known in the community forum is our Q&A Specialist. He has been super helpful and active in the forum and answering a lot of questions by other members of the community.
All of the Answers!
I promised you a Google Sheet after the event for the summery of the answers, well here it is!
Feel free to dig in and check out what the final results for the questions you answered were 🙂