In our ongoing efforts to make it easier to automate monitoring environments we recently introduced a new module for Icinga Web 2.
Icinga Certificate Monitoring
This module is first and foremost a platform which lets you have an overview over all the certificates you are using in your environment to prove the identity of your devices. You can take a quick glance or a very detailed look at them. It will help you to know exactly how your certificates are distributed based on the signing certificate authority, the used algorithms and key strengths as well as which certificate expires next.


It helps with automation
You don't need to register each device or certificate by hand. The module will scan the networks you'll provide it with and harvest any certificates it encounters. Whether it does this regularly or on demand is fully up to you.
Networks are provided by setting up jobs. These jobs define several IP ranges in CIDR notation and ports. Schedules in CRON format may also be set for jobs so that this module's daemon runs them regularly.

Integrates well with your environment
Cloud hosting and virtual machines are on the rise for a long time now and with SNI (Server Name Indication) a single host may easily present different certificates on the same endpoint. In order to facilitate this, the module can be told to scan an endpoint multiple times by setting up SNI maps.
Installed alongside the monitoring module, Icinga Certificate Monitoring even accesses its database backend to fetch SNI information.¹ This will help to match results found in the scan process to already known hostnames in your monitoring environment.

Don't miss to roll out new certificates
Let's be honest, everyone has sometimes missed to re-new or replace expired certificates. The module provides detailed views showing you exactly which certificates require your attention.
Take advantage of your favorite monitoring tool
Though, if you're not proactively looking at the user interface the check command shipped with this module may help with setting up notifications in Icinga.
Bridging the gap with the Director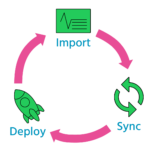 With all this talk about automation one has to wonder how to establish a link between this module's knowledge about certificates and Icinga's configuration. You're right if you think of the Director's import and synchronization functionality now.
The module lets you easily import known hosts or certificates with its own import sources. By setting this up you only have to define jobs for it and all the rest is handled automatically.

¹Available with Icinga Web v2.7 (Scheduled for release mid 2019)