August brought us the Icinga Web 2 Map module, tipps and tricks for Icinga and more integrations. The schedule for OSMC 2017 was announced, where developers and community members will meet and also give talks this time. Icinga Camp Berlin happens on March 8th, 2018 – CfP and early bird is open!
We've reached more than 1000 GitHub stars for our projects – thank you!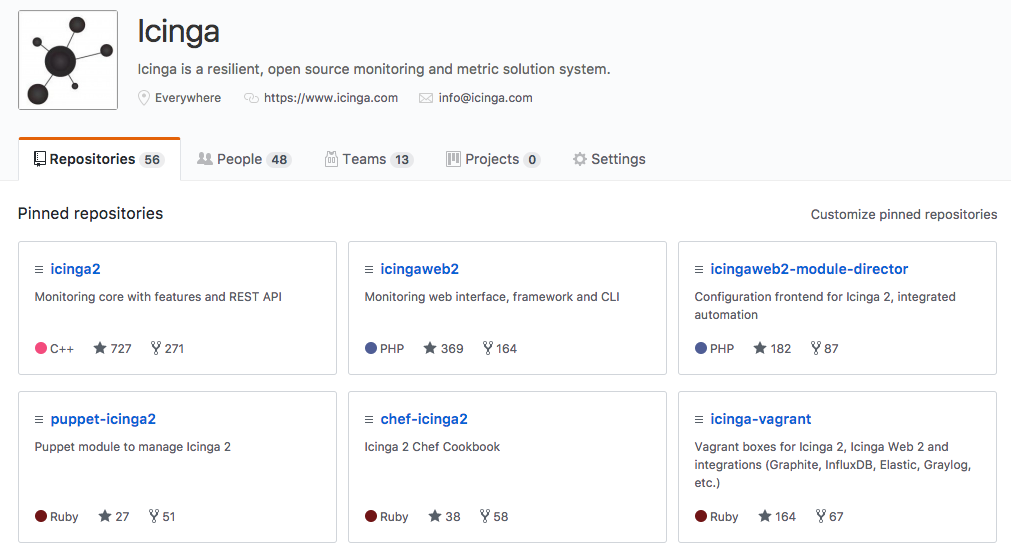 Product Updates
In case you have troubles with the mail notifications scripts in the latest Icinga 2 v2.7 update, please checkout this advisory.
Users also reported problems with certificates on OpenSSL 1.1.0. The latter is used on Debian Stretch and the Windows packages. The certificates should have been created in 2015. Checkout this advisory to see if you are affected and how to fix the certificates.
In case you are having trouble with Icinga Web 2 v2.4.1 and Icinga 2 v2.7.0, API command transport and acknowledgements, look into this fix.
Francesco contributed installation docs for Icinga 2 on Alpine Linux. This should ease your way into small Docker deployments.

Team

We are proud to welcome Simon Murray on team Icinga 🙂 His magnificent work on the InfluxDB feature in Icinga 2, including hotfixes for the recent v2.7, continues on the official core team 🙂


Events
The date for Icinga Camp Berlin 2018 is here: Join us on March 8th, 2018 for a full day of #icingalove 🙂
Proud to announce our next Icinga Camp in Berlin on March 8th, 2018. CfP is open and early bird tickets for sale – https://t.co/lwoiMB9o81

— Icinga (@icinga) August 29, 2017

The schedule for OSMC 2017 is here, 30 talks on monitoring, many highlighting Icinga 🙂
Jackpot @Mikeschova – #osmc talk on day 1, room Jacobi and right before lunch. So we have room & time 😀 https://t.co/RH8JlpkdT0 pic.twitter.com/g8mKc4aHEp

— Michael Friedrich (@dnsmichi) August 23, 2017


The slides from our CfgMgmtCamp PDX talk on "Monitoring as code" are online:
Our talk about "Monitoring as Code" from #cfgmgmtcamp PDX is on @SlideShare – https://t.co/HqKzU0qh8x

— Icinga (@icinga) August 4, 2017
Integrations
Nicolai updated the Maps module for Icinga Web 2 to provide dashlets 😀 Read more about the module in this blog post.
Das @icinga Karten Modul gibt es jetzt auch als Dashlet! https://t.co/XMKmewvO2F pic.twitter.com/i5rKkaUFhK

— Nicolai Buchwitz (@NicolaiBuchwitz) August 4, 2017

Michael is preparing a new NSClient++ 0.5.1 release – make sure to check it out, it also includes the new REST API documentation.
Last chance to report bugs on #NSClient++ 0.5.1 RC https://t.co/bllNZNEO7l #icinga #naemon #op5 #nagios #nscp

— Michael Medin (@mickem) August 7, 2017

Marco showed us how they use Icinga 2 and Puppet at VSHN 🙂
Im heutigen Blogeintrag erklärt Marco, wie wir Distributed Monitoring mit Icinga2 und Puppet bewerkstelligen: https://t.co/3uecokNIRd pic.twitter.com/CsUnwhidqB

— VSHN (@vshn_ch) July 31, 2017


Our partner Shadow-Soft introduced the advantages of the Icinga Director this month:
Icinga Director: What is it? How can it help you? https://t.co/x7WYxdcK1R

— Shadow-Soft (@ShadowSoftNews) July 31, 2017

Christian showed us how to monitor a Raspberry PI client in his blog post:
My last blog post about #icinga2 #RaspberryPi monitoring. #monitoring #nagios #nrpehttps://t.co/oOLeFjCAzA

— Christian Piazzi (@Modius22) August 1, 2017

Erik updated his Firefox addon "imoin" becoming a Mozilla web app.
The #Firefox #AddOn #imoin for #Icinga is now available as a #WebExtension version: https://t.co/VvrgkYDnMO

— Erik Wegner (@erikwegner) August 22, 2017

Christian shared insights into his HomeLAB monitoring 🙂
Mein Monitoring im #Homelab mit #ICINGA2 https://t.co/2rwcuZvaE8

— Christian (@teqqyde) August 6, 2017
Testers wanted
Carsten added repeatable panels to his Grafana module.
Please test latest master with repeatable panels. Feedback is highly appreciated ?https://t.co/5UJ8JqphJh

— Carsten (@Mikeschova) August 12, 2017

Help test a new Nagstamon release!
#Nagstamon 2.1 20170810 needs testing to become the next stable! https://t.co/C9IcZZt8wY #nagios #centreon #icinga #zabbix #checkmk #op5

— Nagstamon (@Nagstamon) August 10, 2017


Help Ricardo with his newest contribution on monitoring Netscaler:
This github PR https://t.co/rwToGogWzB to monitor Netscaler with @icinga needs some further testing. Would be awesome if anyone could help.

— Ricardo (@Ricardo_B) August 12, 2017
More …
We've learned many more things from our lovely community this month 🙂
Lennart continued with his series on the NETWAYS blog on Icinga 2 Best Practices
Nicolai is a real Icinga fan 🙂
Irgendwie will keiner meiner Kollegen einen Zusammenhang erkennen. Unhaltbare Zustände!?? @icinga #icingabook pic.twitter.com/Oy3jPlIpJC

— Nicolai Buchwitz (@NicolaiBuchwitz) August 15, 2017


That's it for August – stay safe and plan your OSMC trip to Nuremberg in November!