Releases
The new revamped Puppet module for Icinga 2 was officially released and uploaded to PuppetForge. We've also released the new shiny Icinga Director 1.3.0 followed by the beautiful Business Process module 2.0.0 for Icinga Web 2.
Icinga 2 v2.6.1 and Icinga Web 2 v2.4.1 fix bugs we've come across after releasing the initial major versions. There also was a release for Icinga Core and Web 1.14 fixing several bugs and security issues.

Updates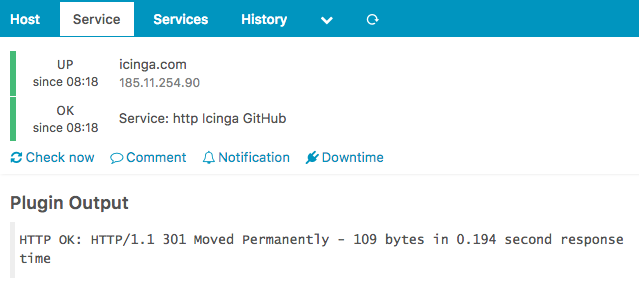 We've migrated to GitHub as our primary platform for code and issues. This also includes migrating the old Redmine issues including their entire history. It is a fresh start but backed with existing discussion history on feature requests and problems. More details in this announcement.
A while back we removed the old classic Icinga online demo. It took a little longer than expected but we're happy to present the new online demo.
2017 started with a kickoff meeting for future developments. One of them targets the Github migration, others focus on infrastructure updates as noted above. A yet more complex topic is a new historical backend for Icinga 2 and Icinga Web 2. After releasing the first bugfix versions we'll dive into February with more development and design tasks.

Community
We've seen a new style and upgrades on monitoring-portal.org …
I now proudly present – the new shiny https://t.co/2SDau8lzWr 🙂 https://t.co/73eNpG0dUy #monitoringlove #icinga #nagios pic.twitter.com/zKp2TSvZEk

— Michael Friedrich (@dnsmichi) January 15, 2017

"Alternative …" 😉
Die Services sind nicht "Critical", die sind "Alternative Ok". #Icinga

— Rem0te (@grauhut) January 23, 2017

Who needs comparisons … well, ok, some do. We don't 😉
Icinga, Nagios, Naemon, OMD, Check_MK , Op5 oder Shinken – Teil II https://t.co/fO7RLoSG2l

— NETWAYS (@Netways) January 25, 2017

When teaching others what you know about Icinga already makes it a special day for you …
Today was my first time as co-trainer for @widhalmt in Icinga 2 Fundamentals training @netways . #supercoolday

— Nicole Lang (@LangLang21) January 24, 2017
Events
Icinga Camp Berlin is coming soon …
Open Source: Das Icinga Camp bringt Anwender und Entwickler zusammen – MittelstandsWiki – https://t.co/eymWa4ajK7 pic.twitter.com/UJiE9jpjJR

— open source (@copy_free) January 20, 2017


.. get your tickets now! 🙂
https://t.co/dNdm20Al8K anyone else going? would be cool to see some swiss faces at the @icinga camp in #berlin ?

— Marco (@marcofretz) January 26, 2017
Ticket for Icinga Camp Berlin: Check!

— Lars E (@bsdlme) January 27, 2017
Thank You
We've seen a lot of overwhelming feedback for the Icinga 2 book. Now it is your call – write a review on Amazon please 🙂
Wurde wieder drauf angesprochen. Will sich keiner erbarmen und eine Rezension schreiben? https://t.co/WqvkMynZhd @icinga

— Thomas Widhalm (@widhalmt) January 18, 2017

Last bast not least – thanks a lot for the sweets & cookies!!!
Thank you @XSNewsBV for supplying the #Icinga team with sugar from the Netherlands. Our community is awesome! ? /mf pic.twitter.com/w9nKNhqpAy

— Icinga (@icinga) January 31, 2017


Stay tuned for more updates next month!