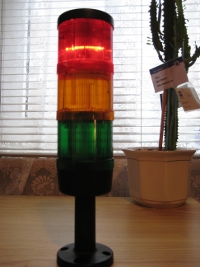 There are many ways you can receive your Icinga notifications- via email, SMS, Twitter, instant messaging, or desktop pop ups… the list goes on. Igor Drobot from Hannover, Germany shared his new favourite: a handmade, monitoring traffic light.
Tinkering with an old LED signal tower he found on Ebay, a relay card with corresponding program by Thomas Dohl, and a plugin by Enrico Righes to parse the output, Igor created his very own notification device.
In case you want one too, Igor has written a detailed guide complete with code, on his blog. Install one in your company meeting room, next to your TV or at your local pub – you never know when your Icinga needs you. Just keep it off the sidewalk, or your system may stop more than just a few services when you're out.
Kudos to Igor and his helpers from Axxeo GmbH on their nifty piece of monitoring hardware!