Hello world!
This post serves as an introduction.
Michael has done so much for the Icinga community and I joined him to learn more about community work a few months ago, to be able to help out with the Icinga community.
He decided to focus on other things more now, but we won't abandon the legacy and community he helped to build. We will take this as an opportunity to open the doors for new and exciting things!
Michi has played a big part in the community and we will all miss having him around a lot.
We are not trying to replace him, which is a task that I don't think anyone could accomplish.
This does not mean that we will abandon the legacy and community he helped to build.
Rather, we will take this as an opportunity to open the doors for new and exciting things!
And that's where I come into the picture.
About me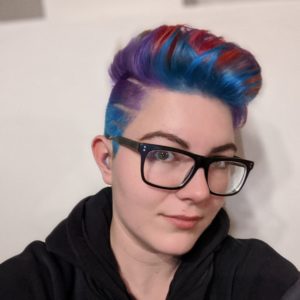 So, uhm, hi! I'm Feu! (Pronounced like Koi but with an F)
My pronouns are they / them and my Twitter handle is @the_feufeu.
You might have already met me in the community, on twitter or at some event, I'm that one person with the crazy colourful hair and that weirdly not-very-german-for-a-german accent when speaking English 😉
The origin story
My career in IT started with an apprenticeship in the development department at Icinga, which I managed to complete successfully 3 years later.
I worked as a front end developer and designer for Icinga Web 2 and its modules for a while and have recently taken over the role of 'development advocate'.
Personal Info
I am a youngish person in the open source world, so as you'd expect, I'm a huge nerd:
Most of my free time is poured into tinkering with tech, video games, the internet and also good old school board and pen n paper games.
In case you want to profile me on the games I play, here are some of my favourites in no particular order: Animal Crossing, Dota 2, Stardew Valley, Starbound, Rimworld, Subnautica and Minecraft.
I also love chatting up new people, so if we haven't met before: just shoot me a message!
My role in the community
Being the development advocate means that my job is now mostly to take care of all of the community needs and be the interface between the community and the development team.
I'm here to plow the forum, twitter and other channels to make sure you – the community – have the best experience possible!
My agenda…
…looks a little like this:
Be active in the community
Help out where you can
Improve the experience for new users
While also being there for the existing community
Encourage communication
Be a representative for the company in the community – and the other way round
Appreciate all the amazing work people do
My goal is to bring the Icinga team and the community closer again, and uphold our open source spirit.
Following that idea, I want to invite you all to join in a discussion in this topic and also hop in on our first online Jitsi meetup this friday!
I am hoping to have a nice get-together with the members of the community and the Icinga team to just chat about what's important to all of us and understand each other better.
I am here for you, I'm here to listen and to make this a friendlier and better place than ever before! 🥰