Our community is more than just helping with questions, sharing experiences and tailoring monitoring together. We've grown so much in the past 10 years that we always seek to improve the conversation. You've seen our many Icinga Camps, keep following our social media channels, engage with developers on GitHub, read our blog … one thing is gladly missed: Our very own discussion platform which combines a forum with a mailing list and also enables quick chats known from IRC channels.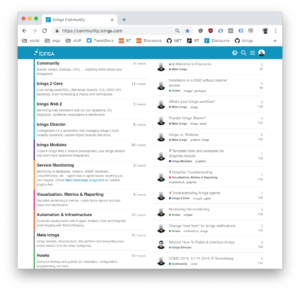 We are proud to announce our new official community platform: Icinga Discourse. We've made sure to add the most valued content, howtos and questions there already. Now you just need to signup with a new account (hint: you can also use social logins like GitHub or Twitter) and join the conversation!
Discourse is built for the modern web, with endless scrolling, mobile views and much more to make it easy to start a discussion topic. We've also enabled the "mailing list mode" which allows you to reply to conversations from your mail client. Read more in the announcement post.
Oh, and by the way – say hello to our new shiny website. We've lifted and enhanced several product pages and made it easier to look for supported platforms and offers. Look around and let us know what you think!