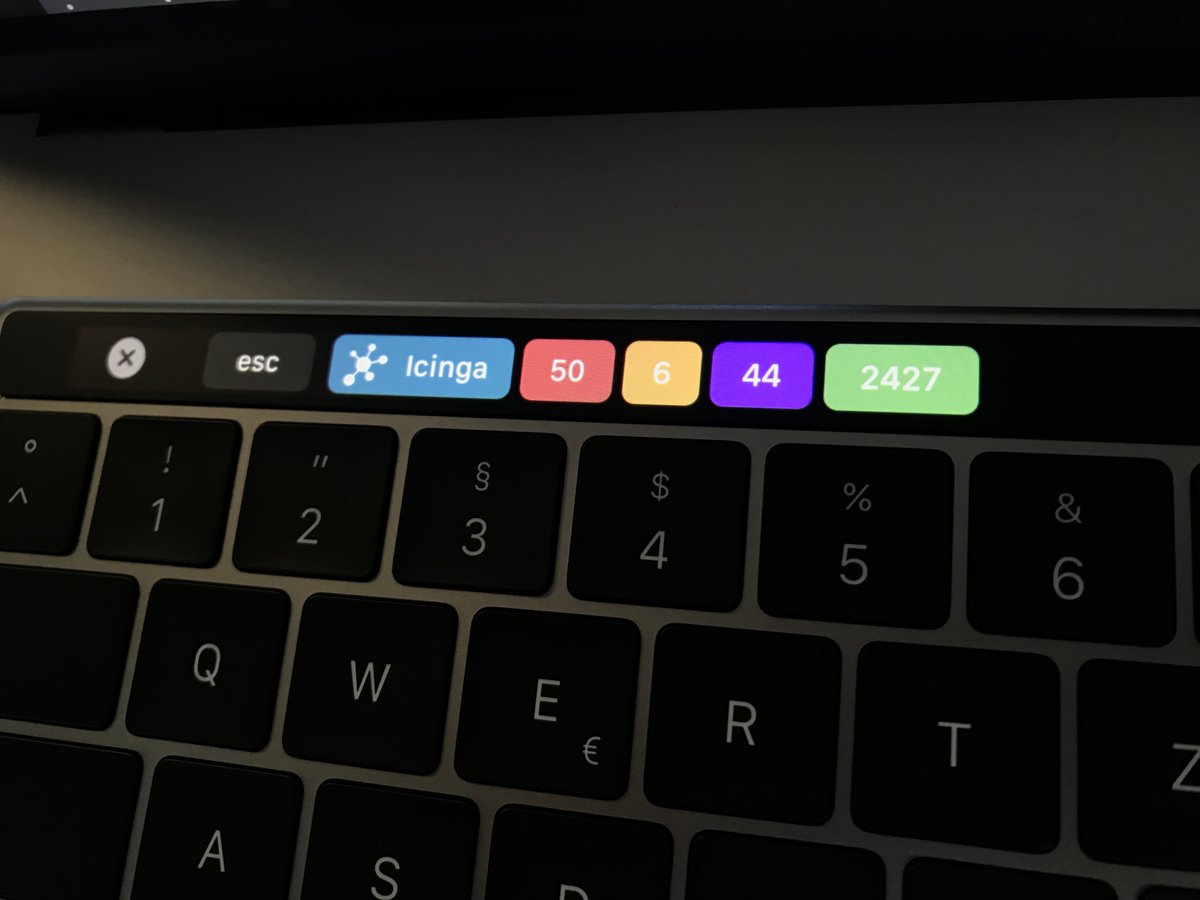 July brought you new releases for our monitoring core and web frameworks: Icinga 2.9 and Icinga Web 2.6. Both major versions add more awesome features to your monitoring stack. Icinga 2.9.1 was already pushed fixing a problem with non-Systemd platforms, Icinga Web 2.6.1 is coming later this week fixing a regression.
On the other hand, integrations and cool new ideas are floating in our community channels. My personal highlight this time: A Macbook Pro touchbar status from Icinga, true #monitoringlove shared by noledge.
This month we'd like to welcome our newest Icinga partner: T1 Solutions. The Icinga-as-a-Service NWS platform hosted by our partner NETWAYS now features Icinga 2.9 master and satellites, try it out! Our partner Axxeo shared their insights on deploying Icinga 2 configuration with Ansible (German blog post).

Meet and learn
We're happy to welcome new Icinga meetups to discuss and spread the #icingalove:
Start your own meetup group and get in touch if you need swap and/or help with promotion. We are also still looking for possible interests in Icinga Camps in Washington, D.C., Tel Aviv, Berlin and Stockholm 🙂
This fall we will sponsor Monitorama.eu. Join us for two days full of #monitoringlove 🙂
Upcoming trainings by our partners:
Thanks everyone for their OSMC CfP talk submissions, we're eagerly waiting to see the full speakers list and more talks on integrations with metrics, containers, IoT and more. Already confirmed fellow Icinga friends: Carsten, Max, Felix, Claudio, Mike and Nicolai.

Knowledge is power
If you are looking for online webinars, a new series on Icinga has been launched by NETWAYS. The Icinga 2 book v2.0 is hot off the plate (and before you ask, this is in German only. The authors will take a nap and then start working on an English version).
Ever wondered how the Icinga 2 configuration compiler works? Gunnar shared deep technical insights with us. He's also been looking into the archive and found an old Icinga dev presentation from early 2013. Can you spot the differences? 😉

Community work matters
Johannes shared the latest updates on Icinga Exchange allowing you to share your plugins, modules and themes even more easy. The Vagrant box playground for Elastic Stack has been updated to 6.3, this follows the fixes for ES6 in Icinga 2.9.
Do you love dashboards and maps? Why not combine both worlds and have Dashing with integrated NagVis maps. If you're more into Grafana and the "icinga" health check, Carsten shared a new dashboard.
Claudio will talk about container monitoring at OSMC later this year, this includes Rancher 2 where he started to write a new check plugin: check_rancher2. Our friends from T-Systems MMS released a new plugin too: check_kubernetes — container monitoring is on the rise.
July also brought end-of-life changes, Debian Wheezy is officially out of support — plan your upgrades! packages.icinga.org was deprecated a year ago, please be advised to update your scripts and playbooks to packages.icinga.com. Last but not least, the 1.x product cycle is EOL and support will be stopped by the end of 2018. We've also deprecated all compatibility features in Icinga 2 (statusdata, compatlog, checkresultreader). Our community channels already discuss possible migrations, and our partners know how to tackle these challenges too!
Last but not least, a huge thank you to Nicolai sending us Manner sweets. We "just" fixed a problem in 2.9.0 in super fast and really appreciate this way of honouring our work 🙂

The true meaning
The meaning of successful monitoring illustrated by Marianne:
Thanks to Icinga I'm already waiting behind my colleagues with a new toner, while they are still asking themselves why the printer doesn't work anymore.
One funny thing starting on Twitter was the hashtag #itschlager (which translates to a specific type of German music). Our all time favourite (and probably only funny when you understand German/Austrian, sorry):
Icinga Liad für Di #ITSchlager
Original: "I sing a liad für di" 😉

Enjoy summer (holidays) and some time off with a G&T!