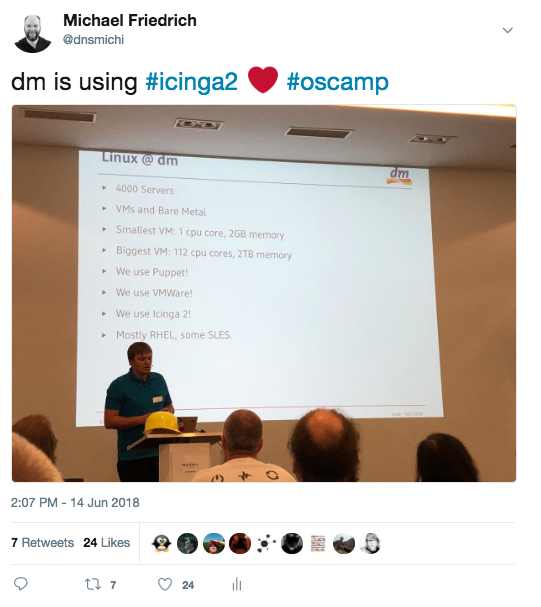 We are planing with more events and camps in 2018/2019. Please let us know if you are interested in joining us in Washington, D.C., Tel Aviv, Berlin or Stockholm.
I've attended the Open Source Camp right after OSDC this year. Although its focus was on Graylog and Foreman, both products integrate well with Icinga. We've learned about the upcoming Graylog v3.0 release this summer, and watched the latest developments of the monitoring plugin for Foreman which allows to manage objects and downtimes in Icinga. It is also official – welcome dm-drogerie markt as Icinga user :)
Product Updates
This month we've been working hard on resolving the remaining issues for Icinga 2.9. The release will happen soon, now we gladly receive your test feedback from the snapshot packages. Bullet points are Elasticsearch 6 support, minimum version in the "icinga" check, fixes for the Windows reload, memory problems, scheduled downtimes and notification order.
Meanwhile, developers are also taking care of Icinga Web 2.6 coming this summer. You can expect new features like audit logging and new group grids, better monitoring health indicators and PHP 7.2 support. There's also work underway for the business process module, sponsored by a customer.
Everyone else is hard at work designing schemas for our new backend, implementing fast pace sync algorithms and finding the best fit for fancy dashboards and reporting. Before you ask, I don't have anything to show at hand yet. It definitely involves Redis, MySQL and Golang, more on the matter soon.
We've also seen new releases for our integrations, Elastic Stack 6.3 has been tested with Icinga 2.9. Grafana 5.2.0 is hot off the plate and we also welcome GitLab 11 introducing the Auto DevOps feature for automated environment pipelines. Anyone got this up and running already with the Kubernetes Prometheus monitoring? Share your development story at OSMC :)
Events
Speaking of OSMC talks, this year brings new possibilities – ignites, short tracks and "full time" talks. Choose what fits best, and share your story on monitoring (challenges) with us in November in Nuremberg :) Not necessarily Icinga related, think of integrations with ticket systems, metrics, plugins, Windows or containers with Kubernetes and Prometheus. The call for papers has been extended until July 31st, 2018.
If you haven't made it to the monthly Icinga meetup in Berlin, Nicolai and Simon have told to be back in July. Subscribe to the meetup group updates and ensure to talk Icinga :) Nicolai will also talk about "Visualization of your distributed infrastructure" at OSMC in November. Marianne proposed her talk on OpenHAB Smart Home Monitoring for OSMC too.
If you happen to be in Jalandhar, make sure to join Karan for the first meetup :)
Community Achievements
Věroš jumped into a hot topic, Prometheus for container monitoring and integrate it with Icinga. Join the conversation on Twitter! Marcin shared insights into dynamic host creation with Ansible roles. Dirk released two new plugins on Icinga Exchange, check_tasmota and check_zway2. Daniel shared his solution for monitoring clustered checks with Icinga. Carsten is on the way finishing his Icinga migration, hosted by our partner NETWAYS.
Guy learned to love the power of apply rules:
Icinga is much easier than I thought. I used to create each host with its services to monitor and added each individually to a hostgroup, but now monitored services are based on hostgroup membership and hostgroup membership is automatic from the specific host template used.
Faheem added Icinga as a temporary solution, but see how this evolved:
We first introduced @icinga as an interim monitoring solution until we get vRops, but now it's stealing the limelight! Nice, easy and clustered, what more you can ask for! It will stay there and will continue to grow. #ThanksIcings #icinga
Our partner Shadow-Soft wrote about the newly designed Chef cookbooks for Icinga on the Chef blog. Christian is already giving Icinga workshops and knows how to dress for such an epic moment :)
Spread the love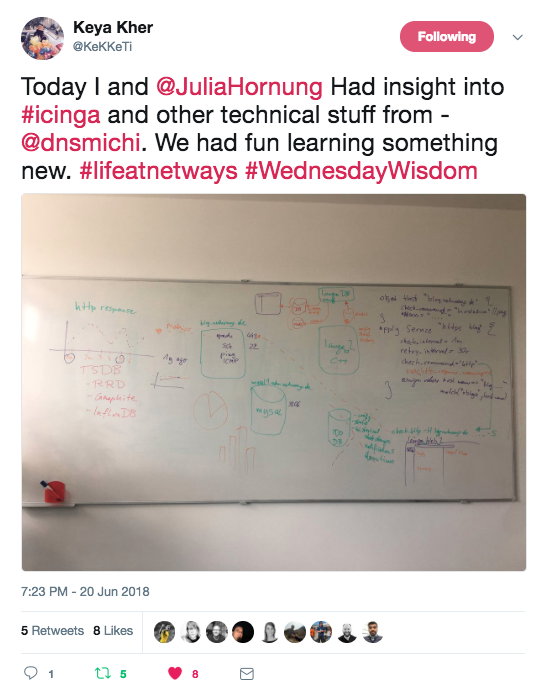 New challenge from the community channels: How to find hosts and services which don't have any notification objects assigned? You cannot really track this with the "object list" command, such an exclusion needs to be done in a programmatic fashion. You can find a solution for the debug console (requires 2.9 unfortunately) and the Pythionic implementation on monitoring-portal.org.
Explaining Icinga and the entire integrations stack to someone who's still learning is hard. Get a board and draw for your life, as I did with my fellow colleagues Julia and Keya at NETWAYS. Obviously the disk was full after explaining what trend prediction means ;-) I hope they'll soon share their wisdom with you, for now we still have so many things to show, learn and test. Icinga is "just" a piece of many in your modern DevOps stack.
Speaking of which, do you have handcrafted design boards for your environments? Share them on Twitter please, Claudio already has :)
Happy summer holidays!