Icinga2 is an open source IT infrastructure monitoring tool that shines with its performant and highly configurable monitoring solution. It has built-in notification scripts such as e-mail, SMS, and Twitter to send notifications when an alert is triggered. These scripts, combined with configuration files, give you basic alerting capabilities such as notifying a team. Often teams need more advanced workflows and alerting needs.
In this blog post, you'll learn five different ways OpsGenie helps Icinga users. Before starting, let's talk a little bit about OpsGenie.
OpsGenie is a modern incident management platform for operating always-on services. It helps dev and ops teams prepare for incidents, ensure the right people are notified at the right time, and provide insights to improve operational efficiency. There is a video explaining what OpsGenie is if you are into videos!
Now let's talk about key benefits of integrating Icinga2 with OpsGenie. At the core, this integration helps ensure that your critical alerts are resolved in the least possible time, which leads to happy users.

Ensure critical alerts are never missed
OpsGenie provides four notification methods for users– email, SMS, voice call, and mobile push notifications. Each notification channel can both alert you and allow you take actions on OpsGenie alerts. For example, you can acknowledge an alert by clicking a number in a voice call or sending an SMS message. Notification preferences can be defined by the users depending on the alert content, such as priority or tags. Admins also have the option to configure global rules. Another critical benefit OpsGenie provides is escalations. Using escalations, you can define multiple layers of responders to make sure that alerts are handled in a timely manner and not missed. All this comes with OpsGenie's reliable platform used by more than 3000 customers around the world.

Route alerts to the right teams
A significant challenge in incident management is to find the right teams and deliver alerts rapidly. Un-actionable alerts can distract people and increase the MTTR (mean time resolve). Using OpsGenie, you can route alerts to the right teams with routing rules and flexible integration filters. For example, you can craft your alerts using the Icinga2 fields seen in the following image and use tags or other fields to route alerts to different teams.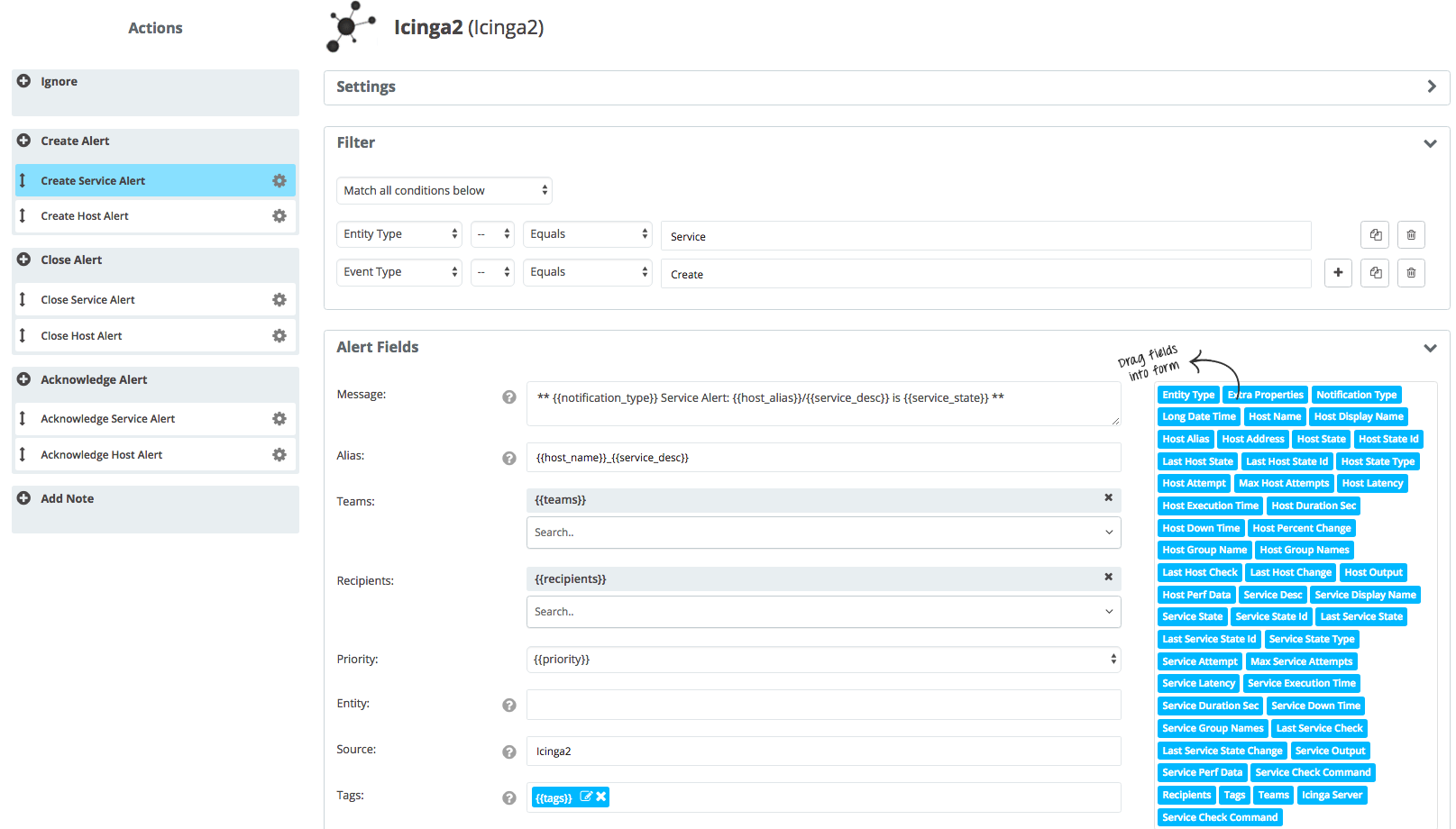 Collaborate effectively and instantly with video conferences and chat channels
Built-in video conferences combined with powerful tooling, OpsGenie's Incident Command Center is the best way to bring your team together during an incident. Once you enable this feature, incidents have a button that allows team members to join a video call from different channels such as a web browser, or a mobile phone. On top of this, if your teams are already using a chat solution like Slack, you can continue using that solution with OpsGenie's ChatOps applications. For example, OpsGenie's three-time Slack marketplace featured app is available to bring incident management into chat.

Consolidate and cluster alerts between different monitoring tools
Distributed systems are complex and consist of multiple services working together. Often we need monitoring at different levels such as network or application layers. This results in having multiple monitoring tools creating alerts for a bunch of different services. Managing this complexity and extracting and clustering the right alerts is tough. OpsGenie gives you this flexibility and you can consolidate your alerts coming from different integrations under separate services. Additionally, these services allow different stakeholders to be notified to take actions on their side. In the end, teams can see what incidents they need to solve in one view.

Track and analyze the whole incident response process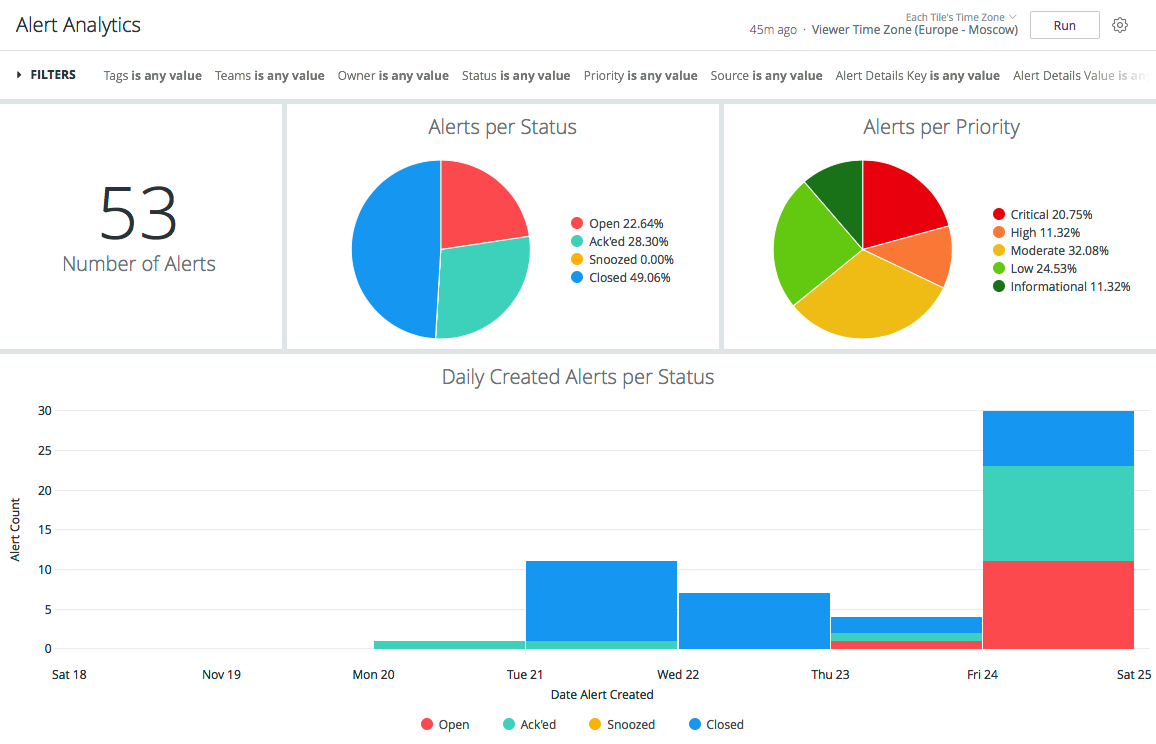 To make future improvements on your incident management workflows, you need to track and analyze. OpsGenie keeps track of everything happening,from the creation of alerts to the resolution of alerts. It is not just about alerts, either. OpsGenie provides the option to export these reports for on-call times of your employees and how they reacted to alerts. Later, these numbers may prove useful for things like rearranging your schedules to be more fair, adding another escalation layer for faster response, or simply for on-call compensation.

How can I integrate Icinga2 and OpsGenie?
The OpsGenie and Icinga2 integration is bi-directional. Bidirectional functionality means you can automatically create, acknowledge, or close alerts in OpsGenie based on the events from Icinga2 and OpsGenie can automatically acknowledge or close alerts in Icinga2. This avoids forgotten alerts and reduces manual work. The configuration depends on your operating systems and such. The best way to start with the integration is to read the integration documentation and ask questions in the OpsGenie community for help.