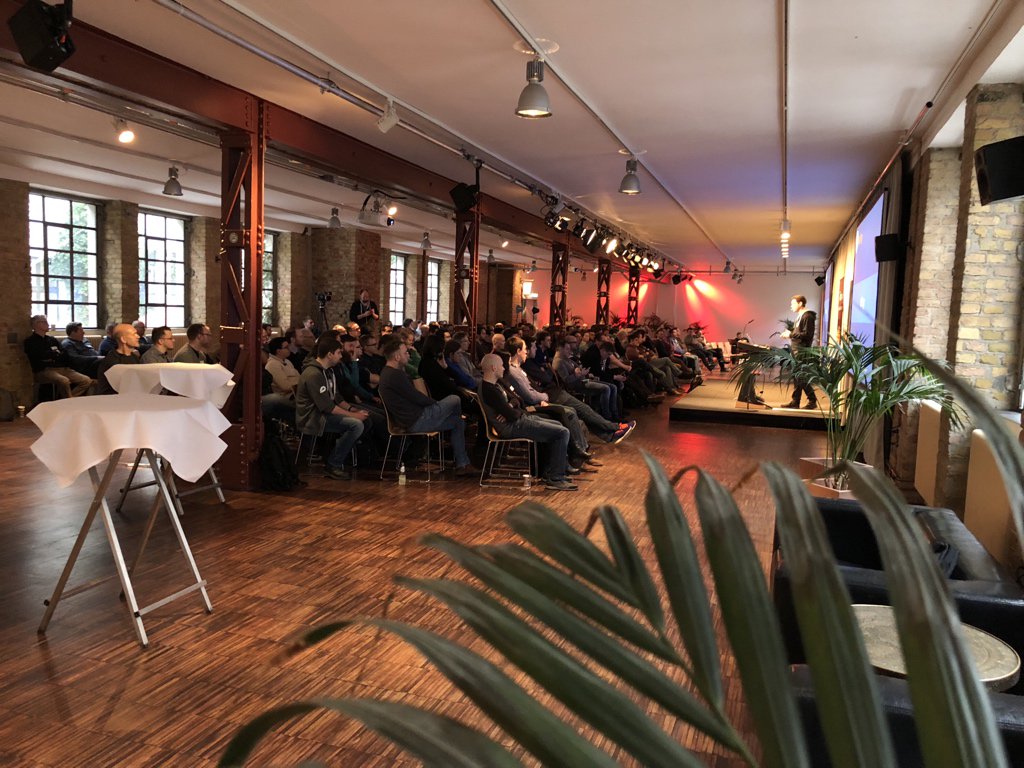 Icinga Camp Berlin and New York were a blast – thank you everyone for joining! The archive for both is now online including slides and recordings. Marianne shared her impressions and Marco did so too :)
We've also had the pleasure to join the 2nd Icinga meetup in Zurich. Oh what a lovely community … we'll sure be back for more #icingalove ❤️
We're already planning for Berlin 2019 and would love to see your talks on how you use Icinga, integrations, cool new ideas, or just the crazy things no-one expects … did I say LSD theme? Want your own Icinga meetup in your hometown? Just get in touch, we'll help you organise and can provide some swag too.
Roadmap and Sponsoring
We have lots of ideas and development coming up in the next months. Many of these features require design, architecture, actual implementation and documentation. Or just: time. We are looking for open source lovers and sponsors here – can you convince your boss to invest some days into the new backend? Or go for reporting you've been waiting for so long? Or should the all new shiny notification manager be put in production already, and you want to help speed things up?
Open source sponsoring is very important and much appreciated. Features like the CA proxy or the Elasticsearch feature were kindly sponsored by Volkswagen while the German Telekom took the long road to grant us many days for the shiny Graphite module for Icinga Web 2. Icinga partners can help you getting things started, or to speed up the development of specific issues or feature requests.
Sounds good? Get in touch with us, and we'll discuss further. We're open source enthusiasts and will invest even more time ourselves to make monitoring a joy to work with. See what's evolving in Erics talk below.
Memories
4 years ago we've designed and implemented Icinga 2's apply rules. Time flies and we've learned that this feature is key in modern monitoring architectures. We've left the N…. space, neither do we seek for comparisons. We are Icinga and look forward to the many integrations with others tools in private and enterprise environments.
Keeping that spirit in 2018, make sure to migrate from 1.x to the new world. We've stopped active development for 1.x a while ago and only tackle security related issues. At some point in the near future we will drop support entirely, and you should be safe with 2.x becoming the "one and only Icinga you love". Hop onto the community channels for help :)
Icinga 2 Book
Thomas and Lennart are working their asses off on their weekends to bring you version 2 of the Icinga 2 book. I have done some pre-reading and would say, a rewrite or "total conversion" fits better. This is a whole new book, not an update. Before you nag them down on an English version, keep in mind that the publisher decides such a thing. First off, the German edition receives v2.0 and then again hopefully both have a lot of work for an English version. You don't get rich by writing books or articles, it is for the fun and pride! Send them some beer…love for their hard work :)
Releases and more
We've released the all new shiny Graphite module for Icinga Web 2. Icinga 2 received a bugfix release v2.8.2 focussed on security fixes reported by our awesome community members. Read on in this blogpost. Carsten has released v1.2.1 of the Grafana module providing full Grafana 5 support. Marianne wrote a thing about power-plugs and how the smart home evolves. Alex shared tips on how to securely setup Icinga Web 2 with TLS while Markus did a deep-dive into Director import sources from MSSQL. Here's a thing on runtime evaluated functions on the community channels.
Claudio released a new version of the check_esxi_hardware plugin. Dashing for Icinga 2 was released in v2.0.0. On a related note – this is now found on my GitHub account, being my Icinga Camp demo playground for years. You'll also find dashing-mqtt there which is part of the heise iX article I wrote about IoT monitoring :)
Jens provided insights into his production system … 128 GB, oh man :)
And you know, when a sponsored feature not only satisfies a customer but everyone out there :)
Robert released his nice Grafana dashboard for Icinga 2 to the wild :)
Last but not least … try this one out, this is truly amazing :)
PS: Thank you Denny for the lovely Dragee-Keksi supply keeping us motivated :)