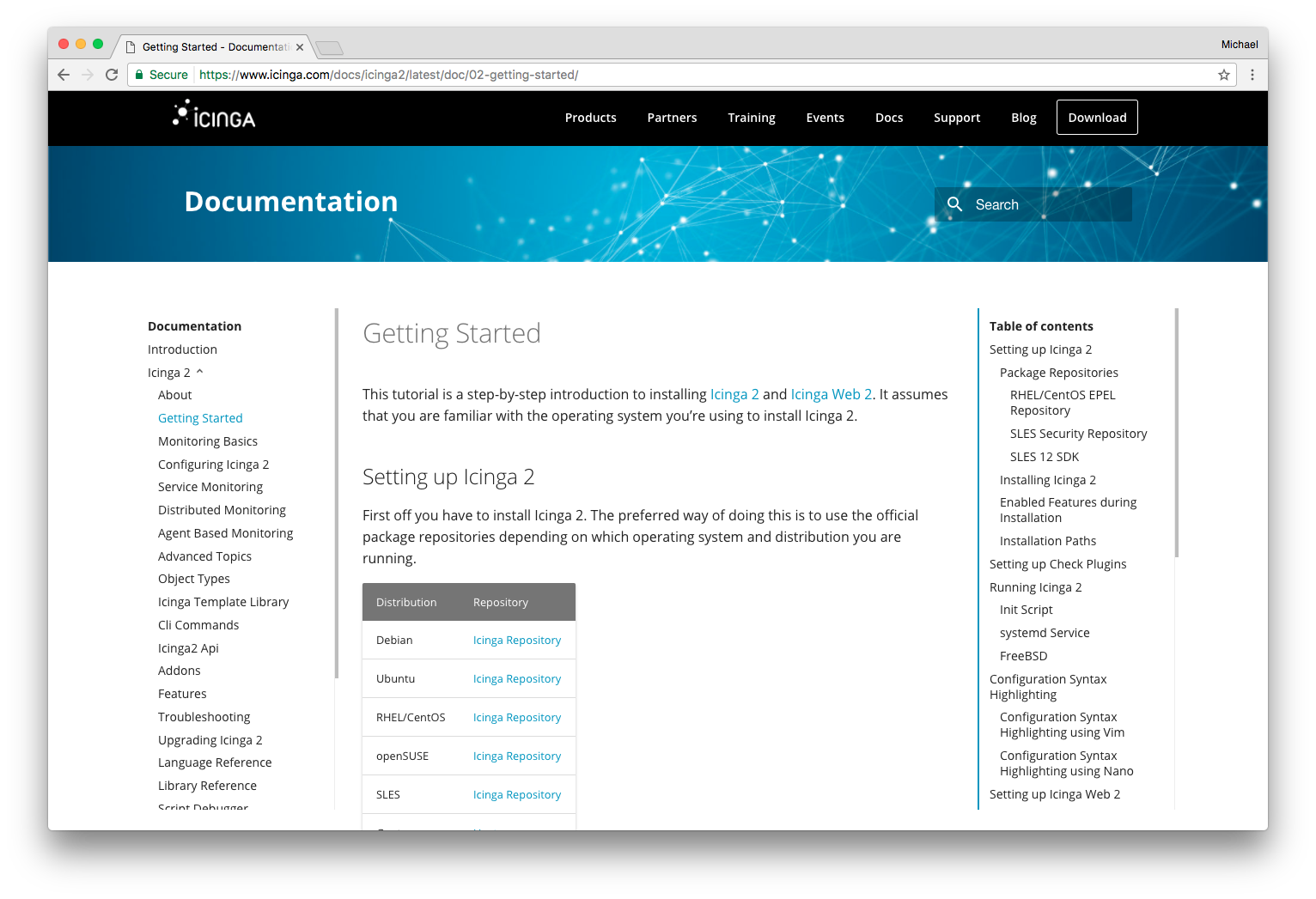 In July we've relaunched our website to better reflect our products, support and partners. You'll also recognise a fresh documentation page seamlessly integrated into our website. Let's see what else summer brought 🙂

Relaunched website
Our focus is clearly Icinga 2, Icinga Web 2, modules and many integrations these days. Icinga 1.x is slowly fading out, and may confuse new Icinga users. There are so many things to highlight and show, and the website got a bit overloaded with (outdated) text and a full blown menu. We've therefore taken the steps to redesign the website and its content.
Choose products and get a clear vision about Core, Web, Modules, Integrations and more. If you are looking for professional support partners, it is just one click away 🙂 Our partners provide official Icinga training and support options to better get you started with your Icinga monitoring infrastructure. The event section has been revamped too, so now you can checkout upcoming and previous events, slides, photos, etc. Last but not least the Download section focusses on package repositories to get you started within minutes.

Fresh online documentation
The Icinga documentation is now seamlessly integrated into our website style and not only includes documentation for Icinga 2, but also Icinga Web 2 and many modules. The documentation also provides a clear-cut TOC and search to allow easy navigation. The underlaying tools to write and generate the documentation are based on mkdocs and custom scripts which are available on GitHub – we love open source 🙂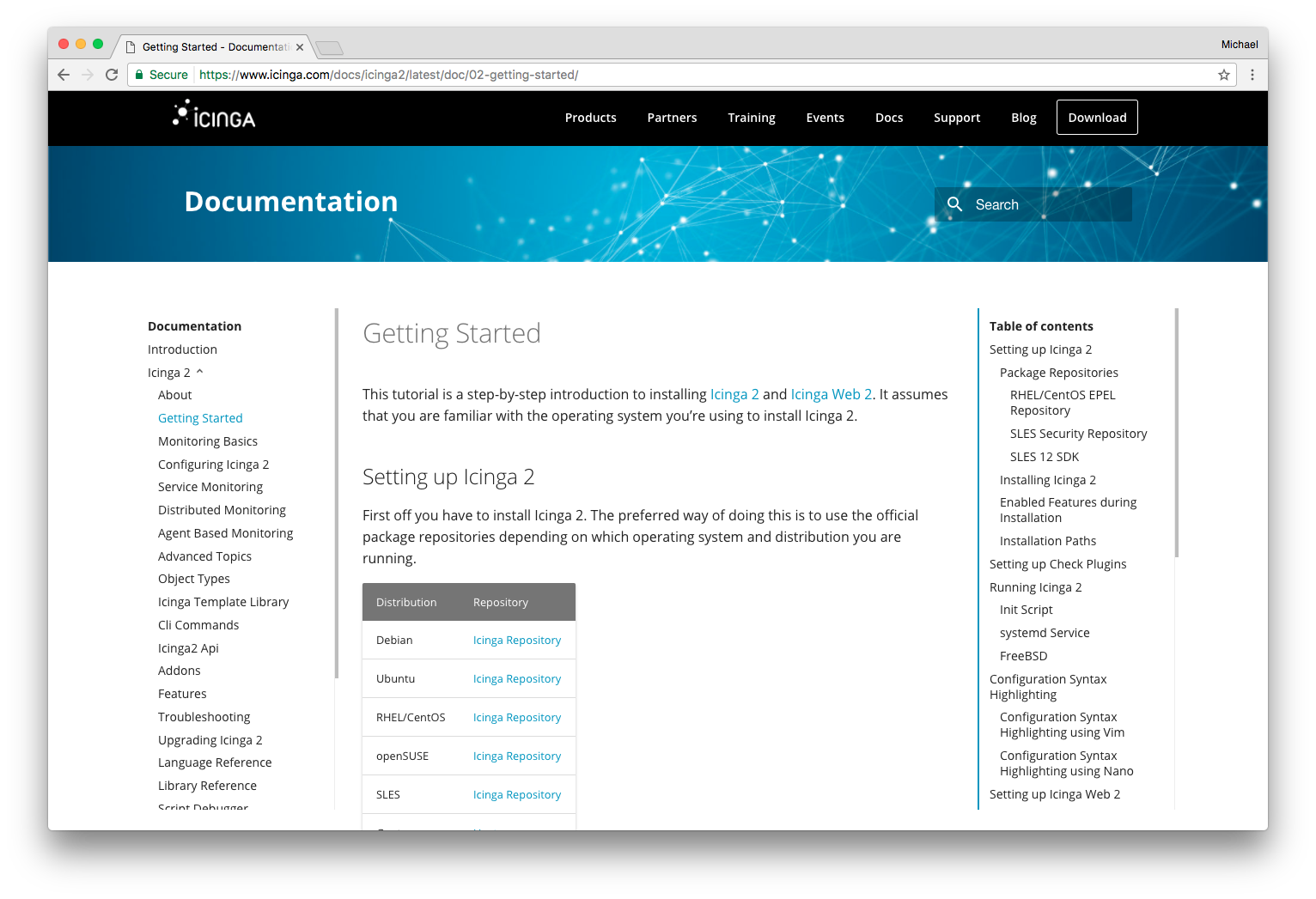 Events
We'll join OSMC on November 21st to 24th again 🙂 Call for papers ends today, so if you have a story of yours to share with our great community, submit a talk!
We're really proud that confirmed speakers feature our community members Marianne, Bodo and Kevin who will share their stories on Icinga 2, Director and more. Carsten and I also proposed a talk about integration stories featuring the Grafana module and Dashing, keeping our fingers crossed 🙂
Make sure to join us in lovely Nuremberg, especially consider the community hackathon on Friday!

Products
We've brought you Dashing for Icinga 2 v1.3.0 in July.

Since the RHEL Kernel bug was waiting for being resolved we did not yet release Icinga 2 v2.7. This is planned for this week once everyone returns from their well deserved holidays. Meanwhile ensure to upgrade your Kernel to the latest stable release (RHEL, CentOS).

Howtos & integrations
Map integration is widely requested, and so community members started writing their own modules. You'll know Globe 3D already, and in July we learned about two more map integrations:
https://twitter.com/stegorsha/status/889737780858732544
Lars already created a FreeBSD port for the map module 🙂
Monitoring Windows clients with local NSClient++ checks was one of many questions asked in our support channels. Once we release Icinga 2 v2.7 we'll return with the new check_nscp_api plugin for more Windows insights.
If you want to adopt your HTML email notifications, peek in here …
… or you'll use a Slack notifications bot 🙂
When it comes to monitoring your Nextcloud instance, keep in mind that there's an existing API 🙂
Carsten's Grafana module is now found in ArchLinux while Marianne integrated openHAB into Icinga 2 …
Lennart and the NETWAYS team continued to publish interesting articles about Icinga 2, Puppet, Director and more.
Our partner ShadowSoft wrote more about cool Icinga integrations this month 🙂
Fun stuff
Marianne monitors the not-so-cheap gas stations in Germany 🙂
Lars found out that Aldi provides the most important lecture for your weekend 😉

Hope you all have an amazing summer – enjoy your holidays and turn off notifications, schedules and dates whilst away 🙂