Releases
The new revamped Puppet module for Icinga 2 was officially released and uploaded to PuppetForge. We've also released the new shiny Icinga Director 1.3.0 followed by the beautiful Business Process module 2.0.0 for Icinga Web 2.
Icinga 2 v2.6.1 and Icinga Web 2 v2.4.1 fix bugs we've come across after releasing the initial major versions. There also was a release for Icinga Core and Web 1.14 fixing several bugs and security issues.

Updates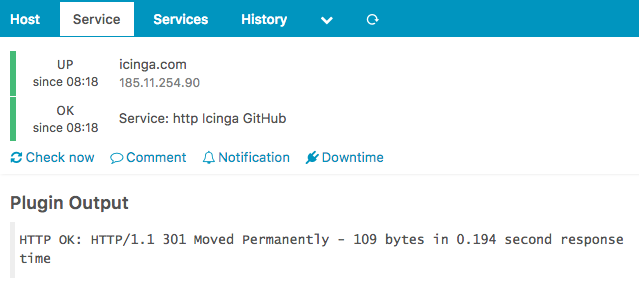 We've migrated to GitHub as our primary platform for code and issues. This also includes migrating the old Redmine issues including their entire history. It is a fresh start but backed with existing discussion history on feature requests and problems. More details in this announcement.
A while back we removed the old classic Icinga online demo. It took a little longer than expected but we're happy to present the new online demo.
2017 started with a kickoff meeting for future developments. One of them targets the Github migration, others focus on infrastructure updates as noted above. A yet more complex topic is a new historical backend for Icinga 2 and Icinga Web 2. After releasing the first bugfix versions we'll dive into February with more development and design tasks.

Community
We've seen a new style and upgrades on monitoring-portal.org …
"Alternative …" 😉
Who needs comparisons … well, ok, some do. We don't 😉
When teaching others what you know about Icinga already makes it a special day for you …
Events
Icinga Camp Berlin is coming soon …

.. get your tickets now! 🙂
Thank You
We've seen a lot of overwhelming feedback for the Icinga 2 book. Now it is your call – write a review on Amazon please 🙂
Last bast not least – thanks a lot for the sweets & cookies!!!

Stay tuned for more updates next month!