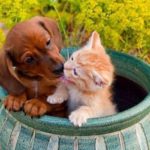 We keep working together as an open source community. We're here to listen what you say – keep it polite and encourage/motivate us to solve your problem with you as best as we can. Lean back and think how others would react if you click "send", frustrated with an issue tab opened in your browser. Sometimes it doesn't hurt to just close the tab or rephrase. The person on the other end (dev and/or user) will appreciate it. In the end we all are human beings with emotions, language & culture differences and offline needs (friends, family, hobbies, etc.). What we have in common – we all want to build a great Icinga monitoring product together 🙂
Bernd did a great ignite on that topic with "Working in and with Open Source Communities" at DevOpsDays Amsterdam (video starts at 17:35).

Now for the awesome karma our community members spread …
"Monitoring system is happy now"

Documentation love …
When someone asks which monitoring tool to use … our community members are here for the rescue 🙂

First Icinga 2 is like … uhm.
Once you get into it … 🙂
… is it love? (even with typos ;-))
I don't know/care what N…. is… icinga2 in a nutshell, win.
Performance Improvements
The IDO database got a monster improvement with 2.5 for config dumps – the initial one is big, the rest is incremental based on only a diff of changes. Glad that community members helped out with testing and providing successful feedback 🙂
#12147
Yeah it works !
My 150000 services, 3800 hosts are insert in database.
Do you think I can use this snapshot for production ?
Thank you for all !
… and direct feedback from this huge environment now running v2.5.3:
IDO DB, nunjaa – also,… Wie soll ich es sagen,…

[2016-08-29 06:05:27 +0200] information/IdoMysqlConnection: Finished reconnecting to MySQL IDO database in 8.56094 second(s).
[2016-08-29 06:11:44 +0200] information/IdoMysqlConnection: Finished reconnecting to MySQL IDO database in 9.00706 second(s).

Sehr geil! 😀
Wenn ich Tobias zitieren darf:


Cluster and Clients
We were mitigating an issue with clients being disconnected when another client fails. This happens during an SSL handshake and isn't really fun to debug. Although we found a fix – clear the OpenSSL error queue before doing any SSL actions.
Glad that our community helps with tests and appreciates hard development work 🙂
#12309
Thanks michi. You guys are awesome. 🙂 Feel free and close this ticket plz
Also for having >2 endpoints in a zone, there is a workaround while we're investigating on a fix. Nice to see this being appreciated as well.
Monitoring Portal
Anyway, you guys are doing a great job! Keep this up!
Documentation and Howtos
Rewriting the documentation for cluster and clients on a weekend was a good idea … real-world scenarios from users for users 🙂
InfluxDB aka hot new shit …

Videos for installing distributed Icinga 2 … look how sweet!
German Icinga 2 ebook … the English version is to be written and published, still waiting.
Bugfixes and Releases
So many retweets and appreciation on all social media channels for Icinga 2 v2.5.
Also great to see companies sponsoring developers who contribute awesome features 🙂
When your colleagues at NETWAYS admire your 9 months of fixing bugs …
Ok, I admit it – some of us love animated GIFs. A picture says more than a thousand words 😉
I guess we just were going crazy with fixing bugs …

… and somehow release and sprint plans changed. Holy f… another bug? Screw it, we'll release yet another fixed version v2.5.4.
We also moved into a new development room in the NETWAYS office …

… still, developers, users, colleagues – we work and party together. And sometimes have crazy ideas. Maybe that shirt will make it into the Icinga shop? 😉

Many things happened in August – are you ready for September? Icinga Camp Belgrade on the 24th of September is waiting for you 🙂
PS: If you haven't done so already, join us in Stockholm and/or San Diego too. And we hack, talk, party together …. 🙂