After a pretty awesome but also exhausting year full of Icinga 2 & Icinga Web 2 we're looking forward to some of course silent Christmas holidays 🙂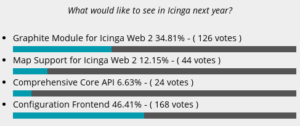 Last year we asked you what you want to see in Icinga in 2015 – and we have to admit, announcing Icinga Director as config tool for Icinga 2 at OSMC, we're pretty close in providing the most demanded one soon. You can follow the progress on the Git repository and the Redmine project. And of course, test it and provide feedback. We're planning to have the first release with us at Icinga Camp Berlin on March 1st 2016, so keep your fingers crossed!
A Graphite Module for Icinga Web 2 is still in the early phasis, first things come first – releasing Icinga Web 2 in its first stable release, and a few months later, v2.1.0 already paving the way for the module api. There are also other Icinga Web 2 modules in development:
You can test-drive their integration inside the Vagrant box, ready for your Christmas holidays. We plan to release after the holiday season, fixing the last bugs and also providing documentation.
While the Icinga 2 API was not the top-voted wish for 2015, we still just did it. A comprehensive core APIÂ with object creation/modification at runtime, access to all object attributes, advanced filters and secured access with SSL only. The Vagrant box also provides Dashing fully integrated using the Icinga 2 API. Go for your own projects during the holiday season and show it to the community in January, making the new year even more awesome 🙂
2015 was not only releases and features – we announced "Icinga Partners & Services" offering professional services to many of you asking for it, and we also have our own Icinga shop offering Icinga swag – if you like it you should put a sticker on it!
Icinga received a Bossie Award, Bernd was interviewed by FLOSS Weekly and we created our icinga2 Docker container. We were also travelling a lot in 2015 – Icinga Camp Barcelona, Antwerp, Kuala Lumpur & Portland and other events. We are looking forward to meet you in 2016 again, perhaps San Francisco or Berlin 🙂 Last but not least – Icinga turned 6 years in May and we welcome lots of new team members.
Icinga Web 2.1.1, which was released today, has a little present for you inside the git repository, packages and Vagrant boxes: A Christmas theme 🙂 (thanks Eric & Tom!)

We wish you a merry Christmas and a happy new year! Now
everyone
:
I-cin-ga, I-cin-ga, Icinga all the way,
Oh! What fun it is to fork on all my cores at once.