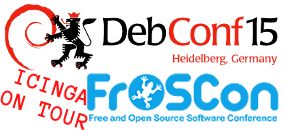 During August I will represent the Icinga team at two open source oriented conferences in Germany.
If you are visiting any of the conferences, feel free to contact me if you want to talk about Icinga.

Look for my face.
Tweet me on @icinga or @lazyfrosch
Or show up at my talks!
DebConf
The yearly Debian conference and meetup for developers and contributors of the well known Linux distribution.
Well over 500 participants are expected. You might want to have a look when you are interested about Debian or Ubuntu in general.
When: Saturday 15 – Saturday 22 August (with a DebCamp the week before)
Where: Heidelberg, Germany at the International Youth Hostel
All details and schedules: http://debconf15.debconf.org
FrOSCon
One of the big and community based open source meetups in Germany, the name says "Free and Open Source Software Conference".
The audience is pretty wide spread, from a small student curious about Linux, to big companies.
There are even workshops for kids, about programming and the usual Raspberries or other fruits.
When: Saturday 22nd and Sunday 23rd August 2015
Where: near Bonn, Germany at Bonn-Rhein-Sieg University of Applied Science
All details: https://www.froscon.de/en/info/