While updating the documentation and Icinga Template Library definitions, we've also tackled a more severe problem with OpenSSL on SLES11 SP3 with this bugfix release v2.3.6.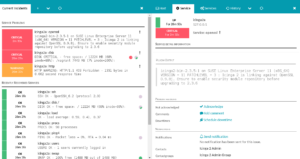 SLES11 uses the old 0.9.8j release causing trouble when verifying the SSL certificates generated from 'node wizard' commands (see #9549 for a detailed analysis). The problem became even more weird when debugging it, so we decided to go for the only safe solution – link against openssl1 from the Security Module repository.
The package update for SLES11 requires openssl1, please ensure enabling the repository beforehand. You can use this small check script "check_icinga2_openssl" (shown in the screenshot).
Other than that, we've also fixed some bugs found inside the Windows plugins and NSClient++ integration. Whilst backporting a stability fix for the cluster from our 2.4 development tree there's also more verbose logging for unauthenticated clients and cluster troubleshooting available.
Package updates should be around soon, meanwhile keep cool and check the Changelog below!

What's New in Version 2.3.6
Changes
Require openssl1 on sles11sp3 from Security Module repository

Bug in SLES 11's OpenSSL version 0.9.8j preventing verification of generated certificates.
Re-create these certificates with 2.3.6 linking against openssl1 (cli command or CSR auto-signing).

ITL: Add ldap, ntp_peer, mongodb and elasticsearch CheckCommand definitions
Bugfixes
Features
Bugfixes