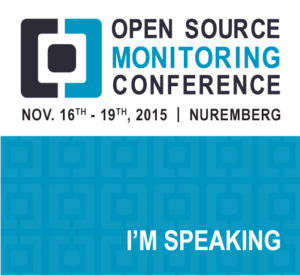 It's an untold rumor that team Icinga is joining each year's Open Source Monitoring Conference (OSMC) from the very beginning in late 2009. Now OSMC is celebrating their 10th year of glory from 16.-19.11.2015. The 3rd day was announced to be a hackathon where some of team Icinga will join to work on cool stuff in Icinga 2, Icinga Web 2 and modules – more time to connect and discuss, awesome :)
The call for papers is still running, and as we know that our community loves Icinga 2 and most recently Icinga Web 2, are you ready to share your story on Icinga at OSMC?
Be it a whole new setup, its challenges in installation, configuration and alerting …
or a difficult brainf*ck to sort the migration from Nagios/Icinga 1 – that should certainly make it into an one hour talk :)
Any chance you are using the Puppet, Ansible, Chef modules for automated deployment with Icinga 2, and want to shed some light into practical examples?
Are you using a clustered environment with Graphite, Logstash, InfluxDB or are you already going the Docker containerized way?
Going strong with plugin development best practices, sharing them all the way through Icinga Exchange?
Any different visualization challenges, e.g. Dashing integration and your NOC dashboards by example?
… your very own experience :)
Go for it – we love to see how our community uses Icinga and catch up with you: OSMC Call for Papers.
As for ourselves, we will join you with news and updates on Icinga 2 v2.4 – or, like Bernd says: Apification. More on Icinga Web 2 and its steps towards a final release, more on Icinga Web 2 modules and keep your fingers crossed for an all new configuration UI for Icinga 2. Well, and certainly more stuff we always come up with.
See you in Nuremberg! Or – any time sooner, submit your talk for Icinga Camp Portland at Puppetlabs :)